Orgasm of Silence
There are times, very rare,
when the sounds of the sea slip away
in layers, like an onion,
until there comes a feeling
that something wonderful is possible.
It's an untroubled sea
and the winds are calm
and time between waves grows long,
and a mood of all-awareness
creeps over me and the sea.
Almost quiet now,
but yet a wave breaks
and the chance is lost.
We wait, and wait, and wait some more.
The sea is teasing.
This time quieter still
a wave is dying in the distance
but still not silent.
If just a moment more...
Hold on, it's almost here!
Yes! Yes! Eternal noise has ceased!
The bliss of silence in the air...
Hanging there Now, and Now, and Now again.
When will it...
Oh God, it's ended.
Let's do it again!
Sunset, Del Mar, 9/13/2001 (c)
---
For almost a quarter of a century I have lived very close to the sea and have come to some deeper appreciation of what can be learned from this awesome masterpiece of Creation.
Over this long period of time, I have always lived in oceanfront homes, with nothing to come between me and my sea.
And even on my global adventures I always find the nearest sea and walk its beaches. Hotels are chosen for their oceanfront access.
I must have my ocean. And for my loyalty and love, the ocean has whispered some if her secrets to me.
One of these secrets is the magical quiet which comes along maybe only once a year, and if you're lucky you might be paying attention when it happens.
Some alternate theories:
Is the silence proof of some Missing Wave?
Or possibly even a Mute Wave?
Am I not supposed to notice?
Is it just a second or two of quiet at the end of the audio track?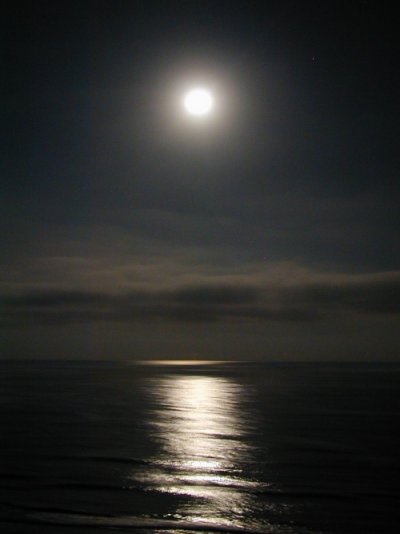 The Full Moon setting over the Pacific.
Photo taken 3:24am on Sept 1, 2001 with Olympus 2020 Digital.

Aviation & Business Journal publishes a story about yours truly,.
some of which is actually never before told stuff!

Click here to read it!





Sunshine brings warm feelings.
Joey blasts into town from Hawaii. Board meeting next week.
A little bit of frisbee and a dip in the 74 degree water,
and what more could you want from a perfect summer day?
How about this:
A late afternoon drive in the Maranello,
up Torrey Pines hill, then north on 101 to my first beach home at Swami's,
letting Sunshine take the wheel (very enthusiastically and competently) to Ki's for dinner.
We were having so much fun at dinner that even the neighboring table enjoyed our play.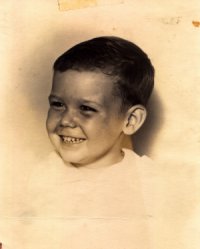 Above photographic evidence uncovered in August 12-20, 2001 trip to Philadelphia
shows without any doubt that I was a child at one time.
If I knew I was so good looking at the time I would have stayed a kid!
Click on image for more detail.
In other news, there was a story on page 8
of the San Diego Aviation and Business Journal, August 2001,
reminiscing about my flying career
and also revealing some new stories never before published.
A pretty good size story with only a few minor errors,
spread over 5 pages, and with 9 photos, all but one taken from this website!
The story was the idea of good friend Robert Olislagers
who is the top dog at Centennial Airport in Colorado, and written by Di Freeze.
(see May 7, 2001 news referencing this story)
With last night's full moon,
all trace of the red tide has vanished.
And now the sea is polluted with sewage!
What next? Locusts?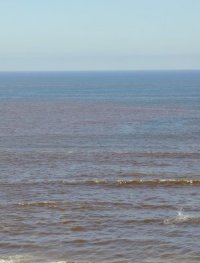 Red Tide conditions continuing for more than a month. (see photo)
New moon.
Lots of new writing projects.
Feeling strong.
New website pages:
Yoga!
Frisbee!
Free Computer Lessons
The Last Word
Yoga this morning, frisbee in the afternoon.
Achieved moves never before seen.
World championships here in two weeks.
The red tide is in again, and tonight the waves are magical,
as each wave breaks, it flashes an eerie green phosphorescence,
all very briefly, before it fades again into the dark moonless night.
It's really quite spectacular. A natural light show.
Mars is huge and hanging low in the clear southern sky.
New moon soon.
Powerful forces, big changes.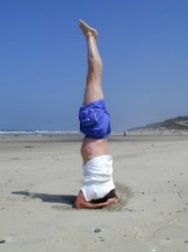 Yoga on the beach at Torrey Pines this morning with Lisette.
Also, some walking, running, frisbee and a photo session to record the
current status of my headstand (above).
Headstands are noted in the upper yogi circles
for providing the body with Amrit Bindu, the nectar of life.
Amrit Bindu is the precious droplets of immortality
that are preserved in the body only when doing headstand!
Another amazing yogi fact, related to me by my first instructor Pamela.
Later in the day it was even more frisbee with Mark.
My work with him is done. I can teach him no more.
Today he was truly epic with a long distance run down the beach, airbrushing all the way.

And, your humble writer performed a first ever running front body roll.
The frisbee world championships will be in San Diego at the end of this month!
Today was a day for a totally new experience: Rock climbing.
Or to be more precise, it would probably be called bouldering.
My good friend George Hoover has been doing this for more than 10 years
at a property he owns in a place called Rainbow, near Temecula.
He's been trying to get me out there to try this climbing stuff for a long time
and I guess I finally ran out of excuses!

I had no real idea what to expect, and I was more than a little apprehensive.
And to make it even more challenging for me, he brought along another expert, Mark Chapman.
Nothing like a couple of experts to show a grasshopper how to do it.
First off George shows me a couple of easier boulders to get the hang of it.
The amazing thing is the shoes! I can't believe how sticky they really are!
They're George's shoes I'm borrowing, about a full size too small and very uncomfortable
but they stick like glue. I'm Spiderman!
When I'm wearing his climbing shoes, George amuses himself with doing some climbs in his shower clogs!
And then a couple more climbs in his bare feet!! Totally amazing!
Here's a video of George making it look easy.
And another video of George demonstrating the downside of climbing.
And another showing George doing a very difficult knee lock maneuver.
George took this shot of me close to the top, contemplating imminent success: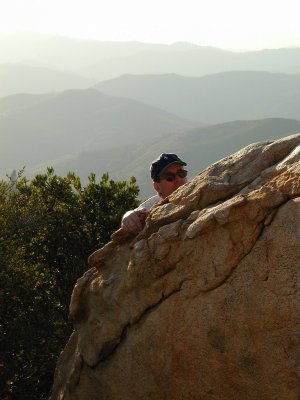 It was a great learning experience, but the rocks are unforgiving,
and the little blood I shed today was just a small indication of the gallons to come
not to mention the broken bones, comas, and more, if I were to take up the sport.
But I probably won't!
Another awesome day of frisbee on the beach at Torrey Pines.
Can there be too much of a good thing?
Still playing with the digital video camera
and Mark recorded a few seconds of
the awesome approach to Torrey Pines beach
driving south from Del Mar. Caution: video 4.7 Mb.
It's one of my favorite vistas in all the world.

Overcast. Trace of rain. Life is good.
Frisbee was sensational.
My diving catch has now lost me two pairs of sunglasses
in the last two days.
Plus one contact lens today.
I need to get cheaper sunglasses, or a strap to hold them on, or better yet: go without.
Tried the video again today and caught Mark going ballistic
and then he turned the camera on me and caught me doing a back roll.
Beware: 3.5 MB download for 15 seconds of movie.
There were high clouds, even a few drops of rain.
But it was low tide, giving lots of beach to play.
Getting into video feature of my digital camera. Check out tonight's sunset.
Beware: 3.5 MB download for 15 seconds of movie.
After hundreds of hours of fiddling with it,
I can honestly say that I have constructed the ideal webpage (mine).
There is always something new going on,
lots of useful information,
simple.
Of course, five minutes from now I'll improve on it!
In an historic frisbee day,
I executed the left foot toe brush and the right footed double kick,
both for the first time.
Water temp 66. Air temp 64. Awesome.
---
Bodacious frisbee, freestyle jammin', at Torrey Pines beach with Mark.
Perfect wind for airbrushing.
It's great to get in the water!
Mark is getting very good,
and having lots of fun with the diving catches, into the water.
Yoga with Sunshine tomorrow morning. Lisette is taking a long weekend.
Pawan and Helen are back from Italy.
We'll get together at Pacifica, and they can meet Shawn.
---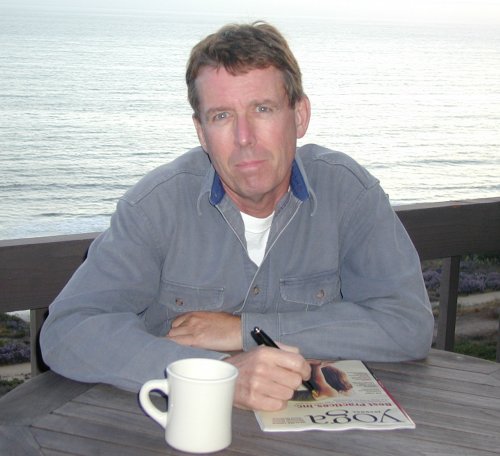 Mars is closer to earth than in the last 12 years.
New Moon and first day of summer just a few days ago.
The water and air temperatures have been over 70 degrees, with clear skies.
The frisbee frequency is high..
Bare feet and shorts,
playing on the beach in shallow surf.
Showed Jessica, just turned 13, some airbrush frisbee moves;
she loved it and easily picked it up, a natural!
Last night was magical.
After the crescent new moon went down,
and the skies were dark,
the surf, just below my window, took on a bright light green color
as each wave crashed to shore.
I have heard that this phenomenon
is caused by plankton which emit a phosphorescent glow
as they become disturbed by the surf.
Lisa, Susie and Sean were here to enjoy it too.
Life is very good.
---
---
A Good Way to Die
Playing frisbee on the beach
running through water deep to the knee.

The disc is coming fast and wide.
A diving catch, my arms outstretched,
I'm flying, weightless in the air.
And then it ends...
From the other side of Life
I watch the surf embrace what once was me
still smiling, prize in hand.
---
© copyright 2001, MM
written on the first day of Summer, 2001
after playing frisbee at Torrey Pines beach
---
Pawan and Helen visit on their way to Italy and Pawan gets a ride in the blue car.
And then that leads to a ride for Mark.
Both rides up the hill at 125.
And then downhill of course!
That was yesterday.
So today I took the beast out to the beach
and snapped a few photos,
played a little frisbee and got some sun on my feet.
That was a good start to a perfect day.
---
This morning's Virgo horoscope is great! (see below)
A perfect day to hit the beach and play Frisbee!
Pure pleasure best characterizes this day.
Romance may be an important part of your renewed enthusiasm and zest for life.
Your health could receive a boost from a new influx of energy.
You may feel as though you're plugged into a source of high energy.
Go after what you need and want.
Travel could be especially pleasurable and emotionally fulfilling.

---
Lisette, who teaches me yoga, married Coby today.
It was a beautiful ceremony, at sunset, on a cliff overlooking the Pacific.
And for once, I remembered my camera.
Click on the photo to see lots more pictures.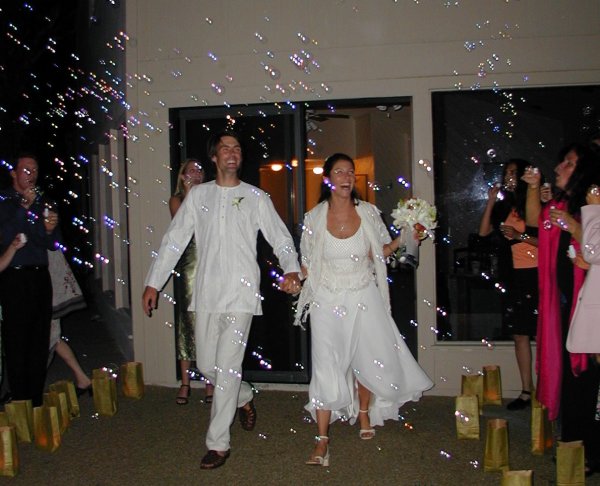 .
---
Major driving experience!
This past weekend, the Ferrari Owners' Club put on a great tour:

Two days of driving, and about 450 miles of
awesome roads, high speeds, and good people.
The overnight destination was Borrego Springs,
so I got to stay again at Mikie's Fun House.

What kind of photographer leaves his camera at home?
---
Good fun:
Interviewed by Di Freeze and Linsey Lips (photo below) of the
Aviation and Business Journal
for a story on my flying adventures and how Fate helped shape my life.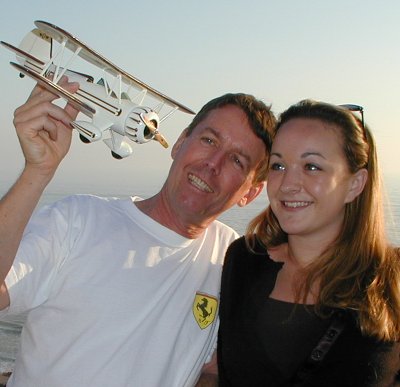 ---
Still recovering from this weekend and a
Ferrari ride to Mikie's Fun House
for fun, sun, starry skies, ping pong, swimming,
jacuzzi, good food and wine, and great company.

Rockin' to Steve Miller Band and Madonna on the CD player
cruising easy in traffic and great speed in the desert.

Life is soooooooo good. Thank you Lisa and Erin!
I should have taken photos!
---
May 2, 2001
Universal Pictures decides NOT to use Mikie's Fun House
to film a scene in "The Mummy" (#3)
They will be shooting just a few hundred feet away,
in a sandy depression called Sleepy Hollow.

I guess the Hollywood life is not for me.
---
Intermittent Status report:
Health: most excellent.
Frisbee frequency: Medium.
Kids: excellent.
Yoga: 17 months of practice, headstands ok, beginning handstands
Financial: comfortable now that Nasdaq has levelled off, cautious.
The biplane is still For Sale, as is Mikie's Fun House.
Car status:
Driver: 2001 Jag XK8 Convertible, dark blue.
Fast car: 2000 Ferrari 550 Maranello.
Collector car: 1965 Mustang Convertible, Hi Performance V8!
---
George Walther visits with news of Angkor Wat.
Ferrari ride up Torrey Pines Hill.
---
Good news:
IRS accepts "as filed" my tax return for 1998, which they had been auditing.
This is the second time I've been audited,
and the second time they accepted it as filed.


Universal Pictures chooses