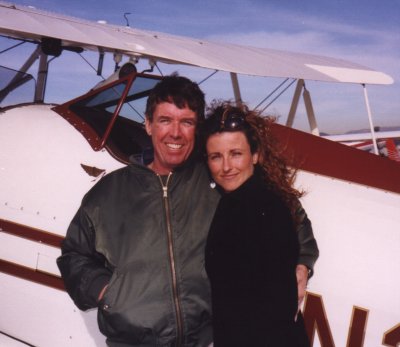 Kat
. They haven't built a camera yet that can capture the essence of a great human being, so you'll just have to take my word for it: Kat is a truly great human being. Impossibly energetic, very smart, compassionate, and, if you hadn't already noticed, stunningly good looking. Kat says she will sit and read to me when I'm very old. I'm looking forward to it! When you meet her, ask her about her son Trystan!
---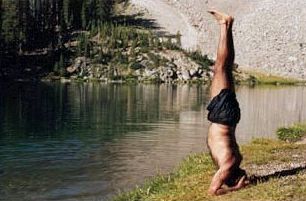 Pawan Mehra
is a good friend and yoga guru,
hold's the Sun Valley record for most vertical feet on skis for the 1999-2000 season
(and he took a month off for a Hawaiian vacation in the middle of the season),
and is an enlightened human being.
Also on the Board of Directors during the TeleMagic adventure.
Check out
Pawan's web site!
---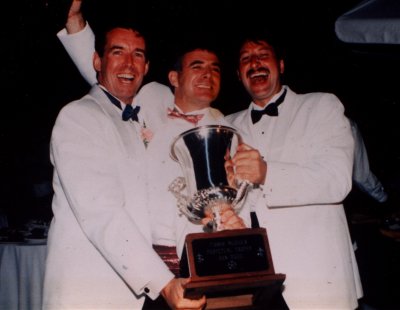 Joey Stewart
(center) and
Peter Green
(right) are pictured here on the occasion of one of my more unruly (and better dressed) birthday parties. The large cup we are holding is filled with Guinness (as is the glass Joey is holding above my head). This trophy was won just that day by Peter's championship soccer team. After many pints one night at Peter's pub, Joey and I agreed to have our companies (he founded
Kerry Oil Candles
) buy the uniforms for Peter's team. Soccer comes naturally to Peter, who was born and raised in Newcastle-upon-Tyne, in the northeast of England. Joey was born and raised in Dublin, Ireland. Guinness comes naturally to all three of us.
No Guinness was spilled during the taking of this photo.
---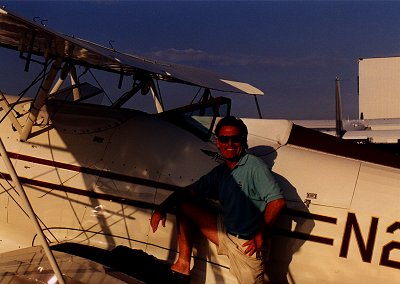 Sean Curtis
. Good friend for many years.
Expert at tennis, sailing, skiing, and golf,
but to his unending frustration he still hasn't beat me at ping pong.
Sean is also an oceanfront dweller, and nearby neighbor.
He was the very first TeleMagic software user, and still uses it every day in
his business,
Coffee Ambassador
, a San Diego based office coffee service.
When I passed my pilot check ride, and was finally able to take passengers for the first time, I offered the honor to Sean to be my first. Sean is a good friend, and he trusts me implicitly, but he is also very smart. He suggested I take his mother and sister first, and if they returned safely, then he would fly with me.
---

Carol Soria
has been my trusted friend and assistant for more than 25 years. Shown here in native Indian clothes ("punjabis") purchased in Delhi, on her March 2000 trip to India. A true vegetarian and a very spiritual person, with a loving and caring persona, Carol has contributed greatly to my good health with her exceptional cooking, and to my peace of mind with her extraordinary organizational skills. Namaste', Carol!
---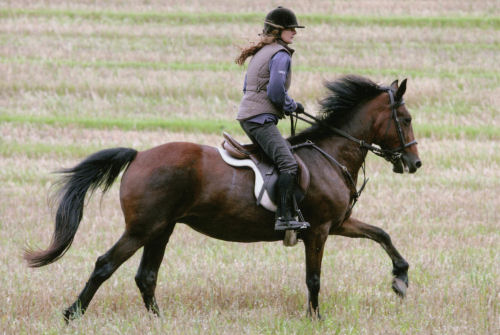 Tricia Gregory
(aka "The Brit"), living in London, England,
has a wonderful sense of humour, multiple dogs and fancies herself to be Queen, at times.
Although we are separated by a continent, an ocean, and a common language,
we are still very close.
If you do business in the U.K. check out her company
Isocube
.
---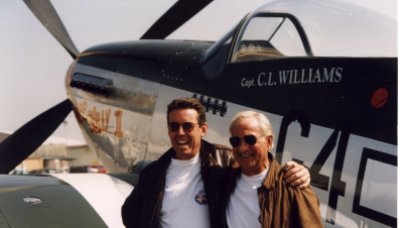 Lowell Williams
(he's on the right, that's me on the left) is pictured here with a P-51 Mustang which we had dressed up with his name and numbers for a trip down memory lane. A bunch of his friends chipped in and bought him his first ride in this great aircraft since he flew one in combat in WWII. Boy was he surprised!
You don't have to save my life to get on this list, but it helps! Lowell Williams saved my life countless times, and he also saved me from wrecking my plane probably even more countless times, all during the time he was trying, patiently, to teach me how to fly, safely, professionally. Lowell accompanied me as safety pilot on my trip with N250YM (the second Waco) from the factory in the summer of '94. We went the long way (6 weeks!) back to California via Philadelphia, a college reunion in Maryland and a fly-in gathering of Wacos in Creve Couer outside of St. Louis MO. We eventually got back and I learned a ton about flying from Lowell in that time. And I gained a lot of confidence. During these trips, Lowell would never touch the controls, except in the rare case where damage would have occurred within seconds if he did not touch the controls. This happened almost every flight at first, and then every other flight, and then one in ten, and by the end of the summer it was none at all. I felt "graduated". Next he taught me aerobatics! That's Lowell's specialty. He was doing loops and rolls and all the good stuff, 5 days a week, at Palomar Airport in Carlsbad CA, right into his late seventies. You couldn't get a finer flight instructor! Or a friend. You know, I never met a single human being who didn't like Lowell!
Lowell died in September, 2006. And he will be sorely missed.
Click here for a webpage with lots more Lowell photos.
---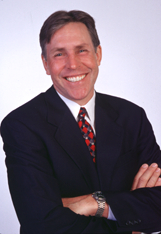 George Walther
is an internationally acclaimed expert at boosting personal performance. He's a professional speaker of the highest caliber, and is widely published. Learn more about George at his website,
Speaking From Experience
. George is one of my favorite people. Positive, intelligent, successful entrepreneur who started with nothing. Check out his new book
What You Say is What You Get
, where he shows you the magic and power of speaking positively.
---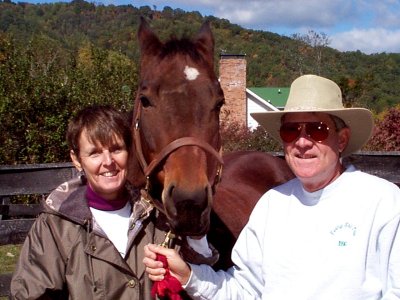 Chris and Rick Feeny are a magical couple I have known since high school. Here's the story: Chris was my date at a party where I introduced her to Rick. Game Over. Well, if you're going to lose your girlfriend, it's best that she wind up marrying your best friend. The better man won. Rick and Chris live in one of those Carolina states and we don't get to see much of each other any more, but when we do it's just like we were back in high school again.
---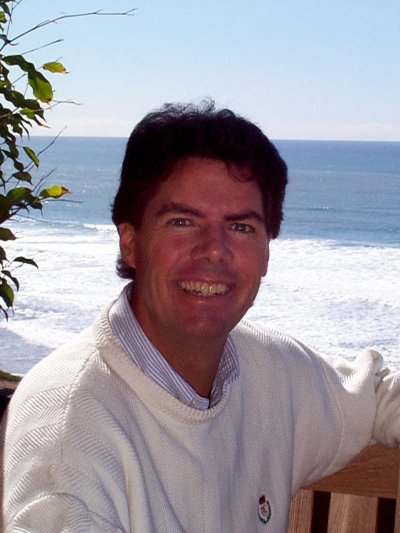 If you like cars, Dave Newhardt is a name you know. He's a professional photographer/author, who does the best work out there. He has many books to his credit! But best of all, he's a good friend. Submariner, father of two boys, married to a beautiful woman, and has the strongest handshake I've run across. Remember this when you meet him!
Check out his website at http://www.davidnewhardt.com/
---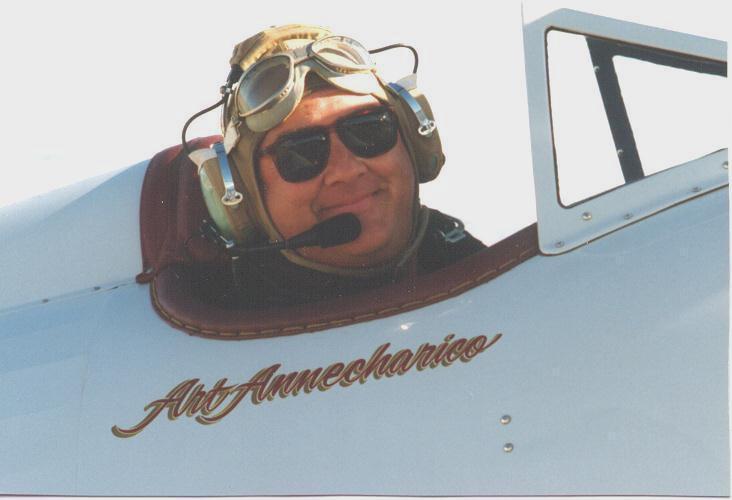 Art Annecharico
owns a biplane just like mine, only mine is prettier, wouldn't you agree?. For some reason, he thinks that rainbow swoopy thing on the tail really looks good. However, he did turn me on to painting the pilot's name on the cockpit. He also taught me a lot more about flying, too. Art was on my wing for the entire
Summer '96 biplane tour of the USA
, from SoCal to Maine, then down the east coast to Kitty Hawk North Carolina, then back home again. We also flew the entire west coast from SoCal to Canada, and back, in a week in September in '95. During that flight Art and I had some real interesting adventures. That was the first time I ever got caught having to rely on instruments-only, except that this time it was at an altitude of only 50 feet over the ocean. There was no room for error. But that's another story. Art always gave me complete freedom to call a Go/NoGo decision, and never tried to overrule my call even though he has thousands more hours than I do. We flew a good bit in close formation. You gotta trust somebody you fly that close to. Art lives in Boulder with his lovely wife Betty, and they are the nicest human beings you will ever meet. He's into fly fishing, custom Harleys, and random acts of kindness. Nowadays he is a college professor (part time) sharing his lifetime of experience producing Television shows. Ask him about his Emmy! Read the story about
Art flying under the bridge at Cairo, Illinois!
---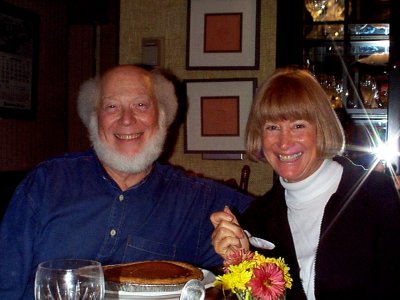 Carol and David Goodell, great friends for more than 30 years, since the first time my Ferrari dripped oil on his Porsche's driveway. David was on my Board of Advisors during the last couple of years of the TeleMagic adventure, and the one who invited me to become a founder of
Landmark National Bank
. David drove a Porsche Turbo at the 24-hour Daytona endurance races. He recently got himself a vintage NASCAR racecar and is having a ball with it! Carol is the sweetest human being on the planet.
Check out their neat store,
The Frustrated Cowboy
.
They are also the owners of the
Seabreeze Farms Equestrian Center
.
---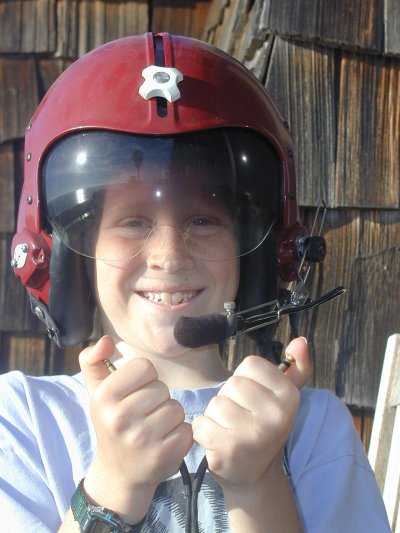 Eric Hertel
is shown here trying out my flight helmet. At this moment, he's a fighter pilot on a mission to shoot down the bad guys and blow up their stuff. Of all the toys at the Fun House, he chose this one as the best, and I couldn't agree with him more!
This whole "friends" page started way back in the early days of this website when a new digital camera coincided with a visit by Eric and his mom Theresa. Anyway, so here's this great photo and a website looking for content, and bingo, you have another genius idea. So Eric's photo was first, and I have added photos as they have become available, without any conscious decision to collect them. It has been fun watching this part of the website grow.
---
Take Care Of Yer Friends
Friend is a word that I don't throw around
Though it's used and abused, I still like the sound.
I save it for people who've done right by me
And I know I can count on if ever need be.
Some of my friends drive big limousines
Own ranches and banks and visit with queens.
And some of my friends are up to their neck
In overdue notes and can't write a check.
They're singers or ropers or writers of prose
And others, God bless 'em, can't blow their own nose!
I guess bein' friends don't have nothin' to do
With talent or money or knowin' who's who.
It's a comf'terbul feelin' when you don't have to care
'Bout choosin' your words or bein' quite fair
'Cause friends'll just listen and let go on by
Those words you don't mean and not bat an eye.
It makes a friend happy to see your success.
They're proud of yer good side and forgive all the rest
And that ain't so easy, all of the time
Sometimes I get crazy and seem to go blind!
Yer friend just might have to take you on home
Or remind you sometime that you're not all alone.
Or ever so gently pull you back to the ground
When you think you can fly with no one around.
A hug or a shake, whichever seems right
Is the high point of givin', I'll tell ya tonight,
All worldly riches and tributes of men
Can't hold a candle to the worth of a friend.
© Baxter Black
---