---
This story appeared in the Aviation and Business Journal in August 2001, and is based on an interview by the author Di Freeze.
---
To dream, perchance to fly
by Di Freeze
---
Even as a "boy kid," San Diego County resident Michael McCafferty knew he wanted to fly.
"I was less than 10," said McCafferty, "that's when you're a real kid. Boy kids were into race cars and airplanes. Make a lot of noise! Zoom. Zoom. Go fast!"
But there was one problem. He wore glasses "like Coke bottle bottoms."
If he told someone he dreamed of being a jet pilot, that person would say, "You can't fly, because of your eyes!" If he said he wanted to be a commercial pilot, they'd say, "you can't fly, because of your eyes!"
McCafferty's second Waco YMF-5
"That was such a bummer!" says McCafferty, who would later prove them wrong. Then again, he had to wait a long time to do it, but it was well worth the wait.
McCafferty is a modern day barnstormer who flew his fair share of "adventure flying" in a Waco open cockpit biplane.
"One trip was an awesome low-level (just above the surf) adventure from Mexico to Canada and back," says McCafferty. "Flights like these take a long, long time compared to what can be done in a 'normal' airplane."
According to McCafferty, two or three hours at a stretch are about all you want to endure in a biplane, especially with intense heat, cold, or rain.
"And weather is always a factor," says McCafferty. "Even though I'm instrument rated, and so is my biplane, I would only go IFR (instrument flight rules) in an absolute emergency, and that has happened only about three times."
McCafferty said that through these flights, he found himself in places he never knew existed, meeting "unforgettable characters", and never knowing where he would next land.
Wherever he landed, locals were usually treated to rides in the biplane.
McCafferty has also done aerobatics.
"Nothing will ever dim my memory of doing loops around a puffball of a cloud, or doing wingovers over Liechtenstein," said McCafferty. "But the best of all the flying I've done is the beautiful landings on grass fields. The vintage biplanes were made specifically for landing on grass, and the joy of landing on grass is exquisite."
McCafferty says there is "nothing as romantic as a vintage open cockpit biplane."
"I think I was born a little too late," he says.
But McCafferty has flown "modern" aircraft as well. He's accumulated seaplane, multi-engine, and glider ratings. With these ratings, he was able to fly, among other aircraft, a B-17 "Flying Fortress," and the "most legendary of all World War II fighters," a P-51 Mustang and a Supermarine Spitfire.
The road to McCafferty's adventures was often as long and bumpy as many of those flights were.
McCafferty was born in Philadelphia and brought up as an "entrepreneur's son."
"My father started his own business; I watched the long hours he would work and the stresses and benefits involved," said McCafferty, from his oceanfront home in San Diego County. "He was a Ford dealer (McCafferty Ford, Langhorne, Penn.). He's a good man; he put six kids through college." He adds that his mother is "a saint if ever there was one."
McCafferty, never fond of school, had no intention of going to college. But something happened to change his mind.
"I went to college under duress," he says. "It was the Vietnam era and there was a mandatory draft, but there were a couple of deferments. You could get married. I didn't want to get shot at, so I asked my girlfriend to marry me. She said no, and I thought, 'Now I have to go get shot at!'"
But he still had one other option; he could go to college, the other deferment.
But McCafferty didn't think any college would take him.
"I did 'not' excel in academics in high school! Getting out of high school and having to go to college was awful," he said.
The biplane used in Michael McCafferty's adventures was manufactured from scratch, not rebuilt, in May of 1994, according to the specifications of a 1935 Waco YMF-5. Although it was a 60 year old design, it had a state of the art instrument panel in the cockpit.

When his father asked him where he wanted to go, McCafferty said, "Harvard."

"After he stopped laughing," he said, "he suggested Mount Saint Mary's College in Emmitsburg, Md., which is the oldest Catholic college in the United States." McCafferty had attended an all boys' high school and the college continued the tradition.

"That probably accounts for my instability today," he quipped. McCafferty tells how his father took him to the college and sat him in front of this "red-hatted guy."

"They're into hats," he jokes. "I knew at one particular moment that I was in college because my father said to this "hat"-he was a monsignor, 'I know that Mount Saint Mary's does not need my son but my son needs Mount Saint Mary's. And I thought, 'That's good material. They're a church. They're charitable. You know, 'Give me the lepers. We'll take your kid.'"

At college, McCafferty continued in the "same vein of disdain for academic stuff."

"I got into this entrepreneurial stuff big time," he says. This included arranging for birthday presents to be delivered to students, an ad campaign on student blotters, an off-campus "restaurant" and an on-campus food delivery service.

"I was kind of like, 'that guy,'" said McCafferty. "You know, 'We don't know about that guy. He's very weird.'" He also admits to hustling at pool and acting as a bookie.

Then, something really "weird" happened.

"I had been told that I would not graduate," he says. "I didn't care. I wanted to sell insurance anyway. If you sell a policy, you sell it one time and if they continue to live, they continue to pay. You get commissions forever."

But according to McCafferty (who refers to himself as "destiny's child") fate had other plans. One day, he walked through the student union building, intent on finding a sandwich.

"I was walking through the hallway, and a door opened," he says. "It almost hit me in the face. I reached out and grabbed the handle to stop it from hitting me. Another student walks out and he looks at me and he starts laughing. He said, 'You aren't going in here are you?'"

"Why, what's in there?" McCafferty asked.

"It's I-B-M," came the answer.

"He says it like he's in church," says McCafferty. "'It's I-B-M.' Like, 'It's Jesus Christ.' 'Oh, really-cool!' I said, 'What's that all about?'"

McCafferty was told they were looking for salespeople. This puzzled him. If they were looking for salespeople, he should be in there.

"I asked him why he thought it was so funny that I might be going in there," said McCafferty.

"Because-it's I-B-M," was the answer. "They're only looking for people in the top 10 percent of the class."

McCafferty saw the humor now, since he was in the "lowest two percent. This inspired him to enter the hallowed room.

"I walk in and a little gray-haired man is sitting in the back of the room," says McCafferty. When the man asked if he was next, McCafferty proceeded to tell him that he knew what they were looking for, and they weren't going to find it.

"I know everybody in school," he told the man. "I can assure you that there are no good sales people in the top 10 percent, and, as a matter of fact, I really can't think of any good salesmen except one in the entire school." When he was asked who that person was, the answer was, "Me."

The IBM representative, intrigued, asked McCafferty if he wanted to take the test.

"Sorry," said McCafferty. "I'm on my way to get a sandwich." He laughs and says that he was playing the "ultimate keep away" game. But he told him that he might stop by on his way back.

He came back, took the tests, and got the job.

"My whole life completely changed," says McCafferty. "People thought you were a genius if you worked for IBM. For the first time in my life, since I was two or so, my parents loved me. But everybody in school hated me. For four years they were working. McCafferty was getting a sandwich and he gets the dream job. Foul! I wasn't even supposed to graduate."

But IBM didn't know he wasn't graduating.

"They asked," says McCafferty. "They pestered me for my transcript. I'd say, 'I asked them but you know how busy they are this time of year.' They waited but never got it. Finally they stopped asking."

But that pesky problem of not graduating was turning into a problem.

"I ignored the whole thought," he said. "Then, late in the afternoon, the day before graduation, I realized that the next morning, Mom, Dad, and a couple of stray aunts and uncles were going to pack up the car, and when they called the names, they'd skip over mine."

He finally called the dean of men.

"He told me that I could come see him, but I still wasn't graduating," said McCafferty. "I talked and talked and I don't know what I finally said, but he eventually said I could."

Once McCafferty began his job with IBM, he was unpleasantly surprised to find out that he was supposed to go to school to learn all about computers.

"I just got out of school!" thought McCafferty, "and what does that have to do with typewriters anyway?"

But he grudgingly attended classes, learning everything to do with computers (not typewriters), including designing, selling, building, repairing, and how to program and design applications.

While he was working for IBM, his branch manager learned how to fly, reminding him of his own faded dream.

"He had a normal airplane like a Mooney or something," he said. McCafferty had also made an important discovery. One day, while visiting a newspaper stand, he ran across an ad in "Flying" magazine, placed by the Mid-continent Maintenance Division, that said, "Own your own airplane."

How obvious it should have been. The company reconditioned old Stearmans and sold them, at a cost of $7,500.

"My annual salary was $6,000," he said. He told them he would get back to them after he saved the money (selling "bunches" of computers), but each time he did, the price had gone up. By the time he had earned $10,500, the asking price was $12,500.

McCafferty, 23, had still never flown an aircraft, although he had taken up race car driving. Now, he took his first lesson and, happily, discovered he didn't get sick or scared. So, he continued, soloing in eight hours in a Cessna 150 at the Hagerstown Intercontinental Airport in Maryland. But in the meantime, two things happened to put a temporary halt to his flying career-falling in love was the first one. Then, his branch manager suffered a fatal crash.

At the time, he was living in Maryland. He decided to move back to Philadelphia, hoping to take his girlfriend with him. She "waved her ringless finger" in front of him, and he put a ring on it.

Soon there were two children, Kendra and Mike. Three years after starting work with IBM, he worked into the technical aspects of computers by becoming a programmer with Technitrol, with the goal of one day owning his own service bureau.

McCafferty later left the company and moved to Chicago to take over a large service bureau, which he ran for a few years. He and the weather there didn't agree, so he soon found himself searching for the place with the sunniest days, least amount of rain, no snow, and a beach. He found San Diego.

At first, he started selling cars. This lasted until an old business acquaintance asked him if he'd made his "first million" yet, and if not, "why?" He offered to back McCafferty in a venture if he would "invent something."

At one time, McCafferty had written and given to his friend an accounts receivable package that added to the success of his software business, later sold for millions. He now wanted to return the favor.

But what would McCafferty invent? He didn't know what he wanted but he knew what he didn't want: competition, inventory, receivables, employees or investment capital. Finally, he decided what he did want; he wanted to make a couple of pennies on everything that anybody did all the time.

In 1979, he created the world's first electronic yellow pages, called Product Area Locator, the Consumers' Computer, or simply, PAL.

It was a software system that worked on a small computer that answered the phone when someone called. When they touch-toned in a product or service they were interested in buying and their ZIP code, it checked its files and told where the product was sold, if it was on sale, etc.

Advertisers paid for the service, and, as McCafferty had wanted, he received a "little bit of something for everything" that was sold. Soon, newspapers were extolling the virtues of his invention and consumers couldn't wait to use it. Then, the newspaper stories died down, and sales became harder to make.

How did life turn out to be so awful?

When his partner backed out, he started looking for more investment capital. A new partner was lackluster, and six months later, the business went under. In 1983, he was facing bankruptcy.

"How did life turn out to be so awful?" McCafferty recalls thinking. "I was a deadbeat. Bankrupt-the greatest shame of all! I was so broke I had to ask my father for $400 to file." He did what "everybody does when they become unemployed"-he became a consultant.

"PCs were just barely out," he says. "Nobody knew what to do with them. I didn't either, but I got my hands on one and devoured everything about it."

McCafferty, now earning between $20 and $25 an hour, brainstormed and came up with "The Ten Commandments for Managing a Young Growing Business." He had the list printed, on credit, and put his phone number at the bottom.

He enlisted the help of a "pretty girl" to go door-to-door, knock, smile, and simply say, "computers?" If the resident said, "Yes," she would say, "If you have any questions, call this number." If they said, "No," she would say the same thing. The idea was to just get the person to call Michael McCafferty and Associates.

The campaign was a success. Then, McCafferty began cobbling together different software packages that weren't available. McCafferty founded Remote Control International in 1985, and wrote an application, from scratch, called TeleMagic. He likens TeleMagic to an electronic Rolodex. It kept names, addresses, phone numbers and other contact information.

For the next seven years, he put all his efforts into bringing up "his baby."

"There was nothing like it out there, at first," he said. "But within eight years, there were 600 or so similar applications."

The fast growing company was profitable-a diskette that took $12 to produce sold for about $500. But any money that was made, went right back into the company.

McCafferty had started it in his 500-square-foot apartment in Del Mar, Calif., hiring his next-door neighbor as his first employee. He soon had 11 employees and 12 computers. When more people, space and computers were needed, he had to be inventive, since his bankruptcy hindered him from borrowing money.

"I'd take doors off a closet, and put a desk in. The person would be facing into the closet," he said. A floor-to-ceiling panel divided the living room into two halves, and employees worked in shifts. When it wasn't possible to keep this up, the company moved to Carlsbad, where it eventually had 70 employees.

Often, McCafferty would sit in front of his computer for 14, 16, 18 hours, writing or testing software. Suddenly, he would be awakened from his reverie by the sound of a banner towing company's aircraft flying up and down the beach or the sight of a biplane, appearing out of nowhere, diving and pulling up.

"It was just absolutely beautiful," he said. Then he would realize that he hadn't eaten or had a "bathroom break" for hours. For McCafferty, the total commitment was a "plate-spinning act."

"It was high stress," he said. "Every dime that I had was in the business. I was driving a '65 Mustang, and I had huge competitors, like Microsoft. My guts were just killing me after years of this stuff."

In 1992, he secretly began working on selling the company. Now, the deal was coming to a close, and his birthday was quickly approaching. He celebrated both events in a big way.

"I wanted a party on my oceanfront and I wanted biplanes-Stearmans-doing aerobatics to entertain my guests," said McCafferty, who, at the time, hadn't flown since his IBM days. "It had to be biplanes! They're so cool looking. There's biplanes and then there's everything else."

The party came and went, and, a few weeks later, the deal went through.

McCafferty won't reveal what he made, but says it was "millions and millions" and more piles of "millions."

"Two days after the money was in the bank, I realized, 'It's gone. I'm going to live,'" he says of the health problem that had plagued him. "I was free! I sold off my child! The thing I worked so hard for, for seven years. I kind of felt like Judas selling Jesus for a bag of money."

McCafferty immediately doled out bonuses to key employees and a car to his son and daughter. Divorced years earlier, he presented his girlfriend at that time with a car and diamond earrings.

"I didn't buy myself anything for a while," says McCafferty, who was learning what it was like to have "big money" for the first time. "I was one of billions of people who work every day and think, 'Someday I'll retire and God only knows what's going to happen.' Then, I sell my company, just to stay alive, and I get rich! Here you are on this side, and now you're over here, and it's totally different."

That's when he decided that he had been focused for too long.

"I could do what I wanted, but I didn't know what I wanted," he said. "Then it came to me! 'Oh yeah! I'm going to go flying. Because that's got to be what it's all about!'"

He called the banner towing company to find out if they taught people to fly. The immediate response was he should take lessons in a "normal" plane first.

But McCafferty didn't want to waste any time in a normal plane. He wanted to start flying immediately in a biplane, and reasoned, "Didn't they teach people to fly these things in the '30s?"

He eventually talked one of their pilots, Rob Bach, the son of Richard Bach, a pilot and author of "Jonathan Livingston Seagull," into giving him biplane lessons.

Falling in love and falling apart

Soon after his lessons began, he flew to an air show in Casa Grande, Ariz., in a Stearman. While there, he fell in love. The object of his affection was a Waco YMF-5. He was instantly "smitten" with her beautiful lines.

"The Stearman was the ugly sister and here was the pretty sister," he said, although Stearman lovers might (heatedly) argue the point. On the flight back home, he couldn't get "her" off his mind.

"On the first day of business after the air show, I called the Waco factory (which was in Lansing but is now in Battle Creek, Mich.), and after a brief conversation, sent them a deposit to reserve a plane for me," he said.

While he waited impatiently for his new plane, he continued his lessons in the 450 Stearman. He was so thrilled with them, and the fact that he would soon have his own biplane, that he decided to share the excitement with friends.

On a Saturday morning in March 1993, he arranged to have several friends meet him at McClellan-Palomar Airport, where Bach would give them free biplane rides.

The following weekend, on the first day of spring, another group of friends joined him at the airport. The last to fly was 21-year-old Mike McCafferty.

McCafferty strapped his son into the cockpit and watched the aircraft fly away. Tragically, upon returning to the airport, the plane ran out of gas and crashed into a small hill near the runway, destroying the plane, and breaking Michael's back, paralyzing him from the waist down.

"To this day I can still hear my son say, 'I can't feel my legs,'" said McCafferty of that fateful day. Over the next two weeks, as Mike lay in the hospital, McCafferty, finding it hard to walk himself, kept thinking, 'I did this to my son. I strapped him in. I sent him off.'"

For McCafferty, all the "jazz of flying went out the window."

"It was tough because my son was in the hospital dealing with paralysis, recovery and therapy," he said. "I found it unthinkable to get my airplane and continue to fly. And yet, at the same time I didn't want to give him the message that when something happens to you, you just give up your dream."

Mike was completely paralyzed for about three months, and was told that he would never walk again. Then one day, he experienced feeling in his leg.

"When I saw that he was focused on walking again, or whatever recovery could be achieved, and not just giving up, I felt okay about flying again," said McCafferty. (Today, Mike, 30, can walk on crutches, and is self-sufficient.)

In the summer of 1993, McCafferty arrived at the Waco factory, to take possession of his new aircraft. In the company of a factory safety pilot, he headed for the annual fly-in at Oshkosh, Wis., then home to San Diego, to McClellan-Palomar, where he based the aircraft and received primary training, even though it was hard to get past the challenge of having to, on a regular basis, fly past the place where the accident occurred.

He soon felt like the "king of the airport."

"I didn't know anything about flying," he said. "You know how pilot's are. I felt like people were saying, 'He's the stupid kid with all the money, no brains, and the great airplane.' They think, 'That guy can't fly.' When you know you're 'that guy,' you have to prove yourself."

Mikie's Fun House

Immediately after selling TeleMagic, McCafferty moved out of his small one-bedroom apartment and rented a rambling 7,000-square-foot home in Rancho Santa Fe, Calif. He needed room for a "few new toys." And he needed a garage. Of course, a swimming pool was important, and at least one guest room, because he planned on entertaining lots of guests.

The new home was "Mikie's Fun House." It was fun, but it still wasn't big enough. He wanted a home with lots of space and few walls.

"There is just no reason for walls except to hold up the ceiling," says McCafferty. He soon found a perfect location. It was a private airport in the desert east of San Diego, in a community of about a dozen homeowners. He purchased the property, in the middle of a state park, in 1994.

McCafferty lived there for a year before major renovation began.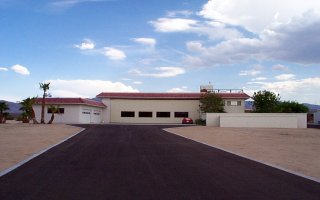 "Mikie's Fun House" at a private airport in the desert east of San Diego

When it was complete, the main complex consisted of a four-car attached garage on the left, the main two-story hangar/home in the center, and a walled-in pool and patio area on the right.

The kitchen and breakfast area overlooked the pool and gardens. The great room, a massive 3,000 square feet with a 16' high ceiling, had plenty of room (the front part) to hold his Waco, a Ferrari and a Scagliettie.

He placed a bed in the center of the back part of the room, which was carpeted in white, with oriental area rugs. To one side of the bed, he placed an antique pool table and a formal dining area. The other housed a den/library/entertainment-center, and office area. The first floor also included a guest bedroom.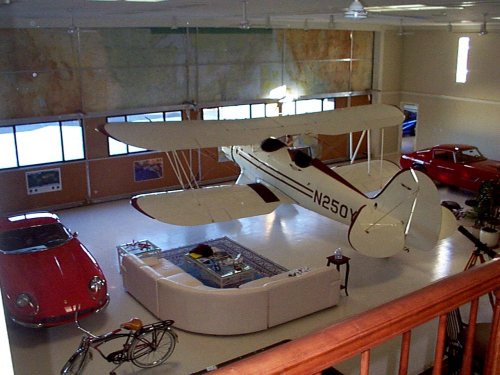 The front part of the Great Room at Mikie's Fun House.
Seen in the room are a Waco biplane, a Ferrari, and a Scaglietti (a rare old Corvette wit a hand built Italian body)
The second floor was designed with a guest bedroom and master bathroom, with balcony, which overlooked the great room. It also featured a pub, which had special observation windows that looked onto the great room, and a balcony that offered completely unobstructed views of it. A small communications center completed the second floor.
A stairway led from the second floor pub to the roof deck, the highest point in the valley.
About a year after purchasing his first Waco, one of McCafferty's instructors took off on a flight after a maintenance check and when he came back, crash-landed.
"There wasn't a straight panel on it," he said. "It was a complete write off." However, as in the earlier accident, the pilot escaped with minor injuries.
"I called up the manufacturer and said, 'This doesn't work anymore; give me a new one!" he said, of the aircraft that was worth about $270,000 dollars, with all the equipment.
In the summer of 1994, McCafferty took a six-week tour of the U.S, which began with the delivery of his second plane, in late May. His tour began in Lansing, Mich. He flew to the east coast and back to San Diego.
In the summer of 1995, he took a weeklong tour of the West Coast, flying from San Diego to Canada along the surf line. He also conducted a 20-day tour of the Rocky Mountains.
In the summer of 1996, McCafferty made a 57-day tour of the U.S., departing San Diego for Maine, heading down the east coast to Kitty Hawk, N.C.
He flew off on a three-month long tour of Europe in the summer of 1997. The Waco was flown from San Diego to the factory in Lansing Michigan, disassembled, and put into a 40-foot container. It was then shipped to LeHavre, France, trucked to Le Bourget airport in Paris, and reassembled for display at the Paris Air Show, June 15-22.
From there, McCafferty set off on a three-month journey covering France, Switzerland, Germany, Luxembourg, Belgium, Netherlands, Denmark, England and Ireland.
Time to get out of the cockpit
In 1999, after accumulating more than 1,000 hours of flight time, McCafferty found himself spending less and less time flying, and more and more time trying to figure out why he wasn't. He finally decided it was a good sign that it was time to sell his Waco. And, with that decision made, there no longer seemed to be a need for a hangar/house.
The Waco has been shipped off to the Waco plant for sale. McCafferty currently uses the "Fun House" as his getaway (it's up for sale).
That doesn't mean he's lost his passion. He says he has a myriad of memories that are "replayed at will," while on the balcony of his condo, driving his Ferrari, or retiring for the evening.
"It's just like doing it all over again," he says.
A look at McCafferty's Website will tell you much about what he's doing these days. You'll find a picture of him standing on his head, the result of hours spent practicing yoga. You'll also find pictures he's taken (lots of them) of Ferraris and other cars he owns now or did in the past, and plenty of pictures of friends.
Then, there are links to organizations such as the Petersen Automotive Museum.
"Most of the stuff you find on my Website indicates I'm a (relatively) normal person," says McCafferty, but admits to suffering from an incurable genetic sickness-a lust for neat cars.
McCafferty inherited his love of cars from his father, who often took him to the Indy 500, Watkins Glen, or the defunct Langhorne Speedway, to watch the races.
On April 3, 2000, the day after the biplane flew away to be sold, he ordered a medium-dark blue 2000 Ferrari 550 Maranello, with red leather interior, like his Waco.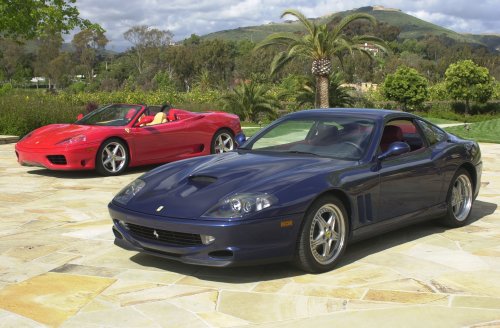 In the foreground: Michael McCafferty's 2000 Ferrari 550 Maranello ("Tour de France" medium blue) with Bordeaux leather interior, the same color as the cockpit in his Waco biplane.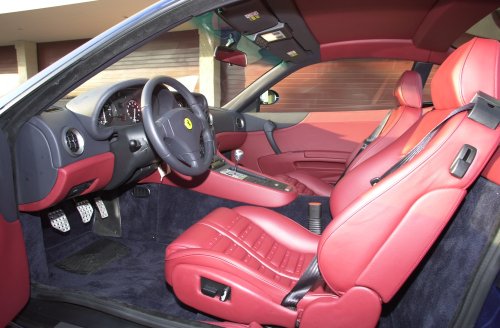 During the last few years, he has focused on learning about the nature of spinal cord injury, a condition that has long been considered a "death sentence." However, scientists are working on finding a cure.
McCafferty is trying to help as well, through personal philanthropy, and by bringing awareness to the cause.
He is working on the book version of stories of his flying adventures he publishes on his Website ( www.MichaelMcCafferty.com). Once published, he plans to donate over 50 percent of the proceeds towards spinal cord injury research.
"I'm sure you know the story about Christopher Reeve and how this fine actor ("Superman") was completely paralyzed by being thrown from his horse in a competition," said McCafferty. "It's amazing how his accident has helped awareness of the need for research. (A link for spinal cord injury is the one Reeves started at www.apacure.com.)
The circumstances regarding his son's accident were tragic, but McCafferty realizes it made a big difference in his life.
"Without that, I'd just be another guy who went flying," said McCafferty, then adds, "albeit in an extraordinarily beautiful open cockpit biplane."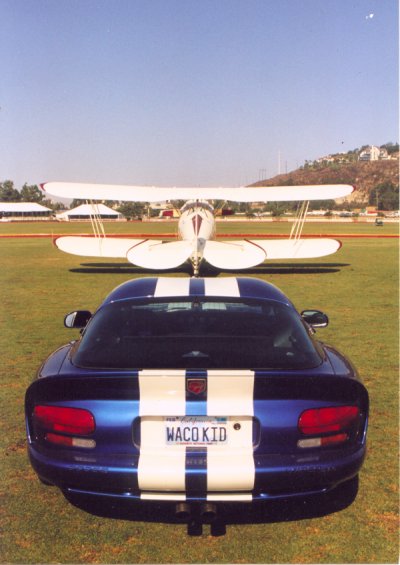 Michael McCafferty's Waco YMF-5 and 1996 Viper GTS
---