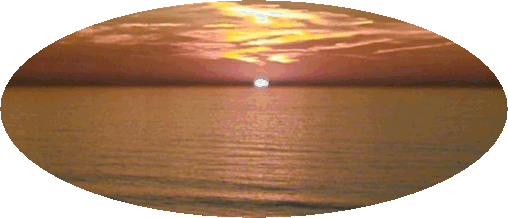 ---
---
The Double M News - 2004
---
---
Google News The Onion Computer Security Formula One Yoga Small Business Human Sciences NY Times
---
---> Recent Changes to the MichaelMcCafferty.com website <---


Sunday, November 14, 2004

Horizontal Heaven

I am such a slug.
It's a perfectly beautiful Sunday afternoon in Del Mar,
crystal clear air freshly scrubbed with recent rains,
cloudless sky, no wind, and 80 degrees in the sun.

I thought this morning it would be a good day
for a walk on the beach.
I surely need the exercise, don't I?
But my empty hammock looked unfulfilled, and called my name.

Instead of going out among the people,
and getting some exercise,
I spent the best part of the day
napping in my hammock.

Oh, that I could burst into verse
to extoll the joys of my horizontal heaven,
but words fail me when I'm asleep...
I'm sure you'll understand.

How can a man resist such temptation?
I'll just lie here a little longer and think about it...
---
Saturday, October 30, 2004
Warrior
This morning, my Warrior spirit rises,
preparing for battle
in the game called Pool.
I stand Alone.
One Individual Warrior,
committed to face all challengers.

No man is my Superior,
for I am Equal, at least,
and I work harder and smarter.
No man has my Teacher
who has given me the Power of Knowledge.
No man has my Focus on the Result
to guide my Actions.
No man can keep me from my Turn at the Table.
No man can keep me from Doing My Best.
Who, then would pretend to be my Superior?
Let him test me with his best.
And when it happens that he falls short
and his spirit is crushed,
let it be known to All Men:
What can be chosen, can Be.
I have Chosen.
I will Do My Best.
No Man can ask more.
No Man can do more.
---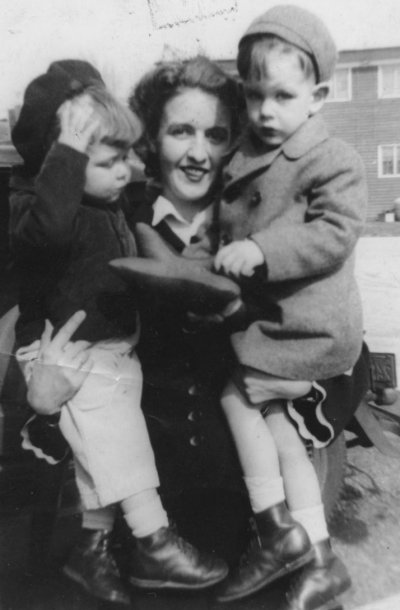 Tuesday, October 19, 2004
"MOM"
August 14, 1916 - October 19, 2004
Here is Mom's obituary, printed in the newspapers:
Verna M. (Meier) McCafferty
McCAFFERTY VERNA M. (nee Meier), on Oct. 19, 2004, of Blue Bell, formerly of Glenside,
beloved wife of Charles F. "Bud"; loving mother of Charles F. Jr. "Bud" (Linda), Michael, Verna Walters, Kathleen Bean (Zenas), James (Barbara) and Eileen Koolpe (Harvey);
also survived by 15 grandchildren, 7 great grandchildren and 2 sisters, Jean Ebaugh and Mary Toner.
Funeral Mass Sat., 10 A.M., Church of St. Luke the Evangelist, Glenside.
Relatives and friends are invited to THE WILLIAM R. MAY FUNERAL HOME, Easton Rd. and Keswick Ave., Glenside on Fri. 7 to 9 P.M.
Int. Our Lady of Grace Cem. Donations to Catholic Relief Services, PO Box 17090, Baltimore MD 21203, would be appreciated.
Published in the Philadelphia Inquirer & Philadelphia Daily News on 10/21/2004.
Eulogy to Mom
delivered by her youngest child Eileen:
Saturday, October 23, 2004
St. Luke's Church
Mother's Eulogy
On Monday, when Mother became very ill,
Mike called Kendra in San Diego to tell her.
Mike's youngest right away wrote this note and sent it to her.
I'd like to read this to you now:
Dear Grandma,
I want to let you know that I love you
and that you have always been very special to me.
I think about you often, and I smile inside when I think of you
talking about the way life was when you where younger,
the story of how you and Grandpop got married,
or even when I think to use a saucer when serving tea.
I treasure the time I've spent with you.
You are an amazing person.
I am truly blessed to be your granddaughter.
Love,
Kendra
We are here because we loved her.
We want to celebrate her life.
Celebrate because we were loved.
Celebrate because we knew a warm, loving, spiritual person
who just kept loving us.
And she was the definition of a lady.
What a superb role model for her 3 sons and 3 daughters.
Kendra said it: We treasure the time we spent with her.
Mom had a favorite poem by Edna St. Vincent Millay. It was:
My candle burns at both ends
It will not last the night
But ah, my foes, and oh my friends
It gives a lovely light.
That was Mom!
She lived a wonderful, full life.
Yes Mom, you gave a lovely light!
Good Night and God Bless You, Mom.
---
One of the songs played at the funeral is "On Eagles' Wings"
Here's a link to the music and lyrics
My favorite part:
And He will raise you up on eagle's wings,
Bear you on the breath of dawn,
Make you to shine like the sun,
And hold you in the palm of His Hand.
---
Video clip of Mom & Dad, August 19, 2003 (birthday kiss)
---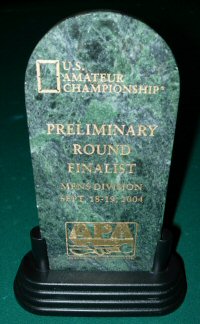 Monday, September 20, 2004
Nothing Ventured, Nothing Gained
Click the photo or headline to read the story of how I won the Preliminary (California) finals leading to the U.S. Amateur Championships.
---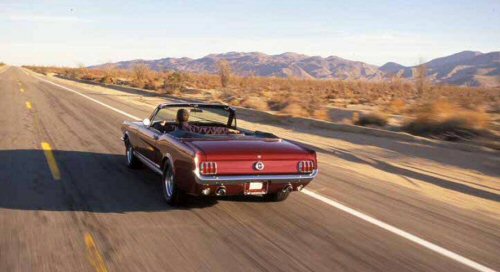 Saturday, September 11, 2004
My good friend David Newhardt was the photographer for the new book "Mustang: 40 Years"
with Randy Leffingwell doing the text. This huge book is an awesome look back at the entire Mustang history, and lucky for me, I got my picture in it. Ok, it's only the back of my head, but I had to sign a model release just like Pierce Brosnan would, if he was in the book, but he's not. I am. ;o) Oh, yeah, that's also my 1965 Mustang K-code (Hi-Performance) convertible in the photo!
Click on the photo for more info on the car.
---
Wednesday, August 25, 2004
Agony and Ecstasy in Las Vegas
Read the true story of my recent debut
at the National Team 9-ball Championships in Las Vegas.
---
Tuesday, August 9, 2004
The Next Big Thing
Originally developed by Rockwell in the late 90's,
the incredible device was "top secret" until
just recently and the details have been released
under the Freedom Of Information Act.
Now Rockwell has gone into production of these
units as PC add-ons and due to some very good
fortune on my part, I have been able to
arrange for the rights to national distribution.
Needless to say, I'll be looking for a few good dealers.
I have had this unit installed on my PC system for
several months and it is functioning flawlessly,
and the results have been stunning!
Check out the details at This Link
And then order your starter-kit today!
---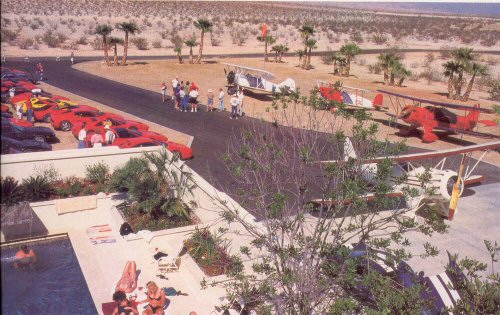 Wednesday, August 4, 2004
The Biggest & Best Fun House Party
Ok, it's not really "news", since it happend in 1997,
but I just found these great photos of the Biggest & Best Fun House Party, Ever
but virtually nobody in the US has seen these photos before
because they were published in a British flying magazine ("Pilot")
21 months after the party.
Check out the photos and read the story.
---
Friday, July 17, 2004
iPod: Moving to the Dark Side
Today will be recorded as the day I moved to the "Dark Side"...
(as an ex-IBMer, anything not Blue is on the Dark Side)
I got an Apple iPod, including:
20GB,
Altec InMotion Portable Speaker set,
USB cable,
car charger,
Griffin iTalk Microphone,
and Griffin iTrip FM output device.
The primary purpose of the device will be to create
self-hypnosis induction recordings which I will use to
increase concentration, reduce stress, and
improve overall performance in my game of pool.
Undesirable side effects may occur,
for example, I may quack like a duck during competitions,
but as long as I win, I guess that's ok with me.
I have been working with good friend and master hypnotist Barry Jones
to create the induction sequence and suggestions that will work.
Watch this space for more news on this experiment.
A secondary purpose for the iPod is music appreciation.
This device seems to be the perfect hermit's accoutrement.
---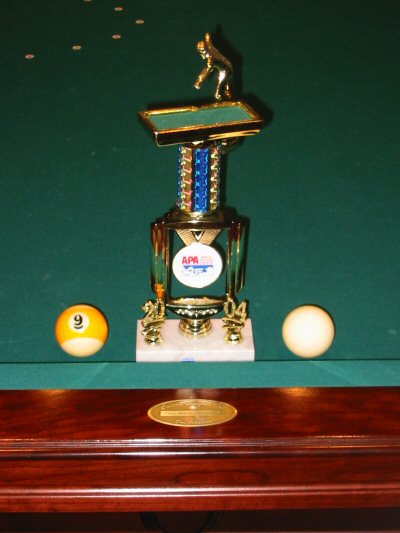 Monday, June 21, 2004
We Are The Champions!

In the city championships this past weekend,
our team "Dead Weight" took home top honors
to win some cash, and an all expense paid trip to Las Vegas
to compete in the National Championships
of the American Poolplayers Association (APA).
It was only 6 months ago that I decided to get out of
my hermit's cave and test my skill.
I was lucky enough to learn of an opening on this newly formed team,
and somehow they accepted me sight-unseen
(and they never saw me shoot pool either!).
I had never shot pool in competition before,
and some of my matches were really stressful,
but they stuck with me and got me my required 10 matches
that would allow me to compete at the city/national level.
(and again, luckily, i got more than my share of wins)
So when I woke up this morning,
and my trophy was still there on the pool table,
I realized that it wasn't just a cruel joke of a dream...
I really will be shooting pool in the
American Poolplayers Association
National Championships in Las Vegas!
"Nothing Ventured, Nothing Gained"
Ain't Life just amazing?
---
Saturday, May 29, 2004
Fast Mikie,
Finishes In The Money!

In a 9-ball tournament today,
at Family Billiards in Oceanside,
attended by only the most die-hard no-life cueists,
(who else would be shooting pool on a sunny Memorial Day weekend afternoon?),
our hero, Fast Mikie himself, outlasted all but two others
in a dazzling display of mediocrity.
No one was more surprised than me.
It was the first money I ever won,
in a legitimate pool tournament.

It is my intention that there will be many more in-the-money finishes,
but I will not bore you with reporting them all here.
Instead, I will only report those wins in which the prize money
is increased with at least one more zero over the previously reported win,
or if there is some other extraordinary factor involved
(for example, see story "Fast Mikie Retires His Willie")
All pool winnings donated to charitable causes.
---
Monday, May 17, 2004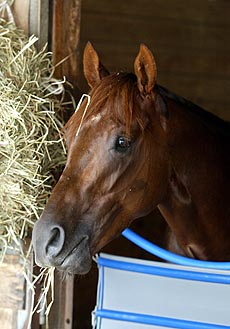 Smarty Jones,
Family Friend

It was a couple of days before the Kentucky Derby.
I got a phone call from my father, living in Philadelphia,
with a very unusual request.
He wanted me to put 50 bucks to win on a horse in the Derby.
This was highly unusual because I have never known him to gamble,
and why would he call me in California to place the bet
when betting opportunities are everywhere?
And why all of a sudden would he pick some horse called Smarty Jones?
I wanted to know the story behind this unusual behaviour, and here it is:
It started in 1949, when my father was working at a Ford dealership
in Philadelphia, John B. White, on North Broad Street.
He was the Finance Manager. In walks a guy named Roy Chapman,
looking for a job as a car salesman. He was hired on the spot
and at the end of the day celebrated the event with a few rounds
at O'Donnell's, the corner pub.
From that day forward, my father and Roy "Chappie" Chapman
have remained great friends. Both my father and Chappie went on
to start their own, separate Ford dealerships,
McCafferty Ford and Chapman Auto Group
and their own boats at the North East River Yacht Club, on the Chesapeake Bay,
and enjoyed Ford sponsored vacations for top dealers.
One thing Chappie did differently, however, was to buy a few horses,
one of which was Smarty Jones, named for Chappie's wife's mother, because
the horse was born on her birthday.
But you probably know the public story by now, so I won't go into those details.
My father called me to place a bet on this sentimental favorite
becuause he figured the Philadelphia area bookies were overloaded with
wagers on the area favorite, and that the odds would be lower in Philly.
But no, of course. I placed the bet at the local Del Mar Racetrack
offtrack betting facility, and got the same odds as anyone else.
Here's the winning ticket: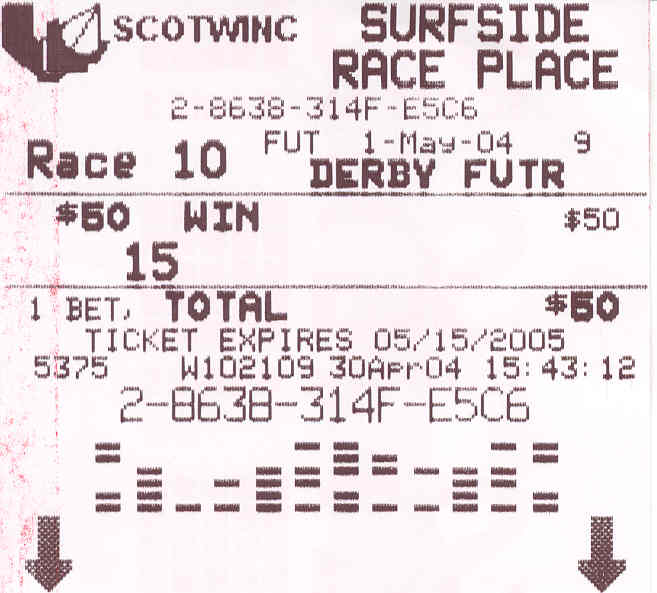 Needless to say, we are all on a winning streak here, especially
after Smarty won at the Preakness over the weekend.
Who could have guessed, 55 years ago, that some car saleman in Philadelphia
would one day own a Kentucky Derby winner?
Ain't America great?
---
Saturday, April 24, 2004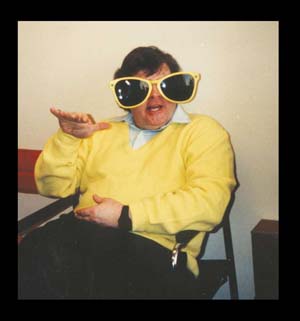 Jerry Huyler
Friend, Artist, Entrepreneur

Jerry went to his Ultimate Reward this past week.
Now he knows more than anyone alive.
Namaste', Good Friend.
Jerry's Obituary &nbsp Jerry's website
Space Window, a painting by Jerry Huyler
---
Wednesday, April 21, 2004
The Secret of My Success

For the past 17 years I have been slowly learning and building a "System"
which I rely on daily to create and maintain a life of Serenity, and High Productivity.
Over the years, I have shown this System to various friends
and they have expressed great wonder and pleasure in reviewing it.
Of course, some people think it may be a bit "over the top" at first,
but when they consider the alternative (their out of control daily lives)
they soon come around to realizing that it is the only solution possible.

We are not alone in this world, and nothing great ever happens without
the help of other people. This is something I learned many years ago
and took my first steps to delegating areas of my life that were
extremely important, yet were not the sorts of things that I was
either interested in or competent to do.
Carol was hired, at first, to make sure that my refrigerator was filled
with healthy food, to do the shopping, and to keep a relatively clean
household... to arrange for laundry and dry cleaning, to change out the
sheets and pillow cases and towels, and to water the plants.

She was good at these basic responsibilities, and while they consumed
only a few hours a week, she was happy with a part time job that
gave her flexible hours and the freedom from the corporate rat race.

Everything went well enough for a while, but when Carol wanted to take
some time off for personal reasons (vacation, travel, sick, etc)
and she asked one of her friends to fill in for her work with me,
it soon became clear that it was a challenge in communicating all that
she had learned from me about how things should be done according to my needs/wants.
The temporary substitute was overwhelmed with the verbal instructions
that Carol would give her, it was like drinking from a fire hose.
And without something in writing to refer to, and checklists, the
temp was doomed to failure, and of course I didn't get what I was paying for!
That's when we started to write things down, and to create checklists
and to realize that we were building a System for the future.
There was never any hurry to build this System, as we knew that it
would always be evolving, always changing, never Perfect. But we started
out on this adventure hardly knowing where we were going, just knowing
that "ANY SYSTEM IS BETTER THAN NO SYSTEM".
This became McCafferty's First Law of Systems.
It was a challenge of monumental proportions at times, but we persisted.
And here we are, 17 years later, Carol still working as my Personal Assistant,
and still updating The System. And I am now even more convinced that
the dedication to this System has been one of the major reasons for
the success I have had in my personal and business life.
Because of this System, I have had so much more time to devote to my businesses
because Carol and the System are working behind the scenes to take care
of all the details that I don't ever have to think about at home.
And my home life is so much more relaxing and serene that my time away
from business re-energizes me and empowers me to
deal with the stresses of work. I am convinced that The System
would work well for countless other people, if only they start on it
and dedicate themselves to it as I have. And Carol feels the same way too...
I have The System available now in Word document form for friends who
would like to try it out. Just contact me for details.
Your success and serenity await your commitment!
---
Wednesday, April 14, 2004
Message In A Bottle, Set Upon The Sea

When one is stranded on an uninhabited island,
with no hope of rescue,
the poetic, and desperate, solution is to write a message and slip it in a bottle
and set it on the sea, with the hope that someone may find it
in time to help you before you meet your Maker.
This is my message in a bottle,
set upon the sea of cyberspace.
Click on the title for the story...
---
Tuesday, March 24, 2004
Read the true story of how I whupped a World Champion in Nine Ball, and retired my Willie on a high note.
---
Saturday, March 13, 2004
Kendra's Kick-ass Cookies

Here at last: the much sought after recipe for the world's best cookie,
better known as "Kendra's Kick-ass Cookies". (My daughter Kendra)
Ready? Here goes:
Kendra's Kick-Ass Cookies
3/4 lb butter, unsalted, softened
2 3/8 cup sucanat (organic evaporated cane juice - go to health food store)
1 egg (or egg substitute)
2 tsp vanilla
1 1/2 cup flour, unbleached
3/4 tsp salt
2 1/2 tsp baking soda
1tsp ground cinnamon
1/4 tsp fresh grated nutmeg
3 cups rolled oats
1 1/2 cup raisins
3/4 cup finely shredded unsweetened coconut (I get it at Whole Foods)
1 cup chopped pecans

Cream butter and sugar. Add egg and vanilla, beat until fluffy. Mix in a separate bowl the flour, spices, salt and soda and add to the butter mixture until just combined. Add the oats until just combined. Mix together the remaining ingredients and add them, too. Make 1 tbsp. balls, drop onto cookie sheet. Bake at 350 for 10 minutes. Allow to cool on a rack. Freeze any unbaked dough - this recipe makes 3 dozen cookies!
Bet you can't eat just one.
Everyone who tries these cookies asks for the recipe!
---
Tuesday, February 10, 2004
Check out this awesome video.
It is the unbelievable but true race through the streets of Paris
at dawn, in a Ferrari 275 GTB (same model as mine).
The sounds are fantastic!
Click the link above for more info, and a preview!
I break a sweat every time I watch it, it's that powerful.
Better than any chase scene ever filmed, because it's real!
---
Thursday, February 5, 2004
Check out my new watch.
I got the Dick Tracy model,
having been brainwashed with thousands of comic strip adventures
of this famous cartoon detective.
(Dick Tracy, the movie, is one of my favorites.)

News update:
Returned the watch! Too big and clunky to wear.
And the strap was stiff and uncomfortable. No fun.
---
The Double M News - 2006 to current - Blog "My Other Life"
The Double M News - Archive 2005
The Double M News - Archive 2004
The Double M News - Archive 2003
The Double M News - Archive 2002
The Double M News - Archive 2001
---
Michael McCafferty Home Page
---