My Music
---
Somewhere near the top of the list of "Things I Want To Be Able To Do With My Body" you would find "Make music" or "Play the Guitar/Sax/Piano/" or "Sing" or even "Dance". Someday, maybe, it will actually happen! I was introduced to the piano at an early age, but I rebelled at the structure of the lessons. I didn't want to practice, I wanted to make music Now, not after I had mastered my unmusical lessons. Practice was boring, and I could always come up with alternate ways of having fun.
I like 50's Rock and Roll, Piano Concertos, Latin Guitar, Jazz Sax... they're my favorites, but I can even get into some Country, almost anything can get my interest with the exception of Rap.
When it comes to vocals, I prefer that they be in French or Italian or Spanish or Portuguese... any language that I don't understand, but I prefer the Romantic languages. English lyrics get me thinking thoughts related to the lyrics, and I wind up calling an ex- or (future-ex) girlfriend instead of whatever it was that I was doing when those lyrics kicked off a hormone release...
---
Check out:



Click here for my favorite tunes at Pandora
---
A Page of My Favorite iPod Tunes: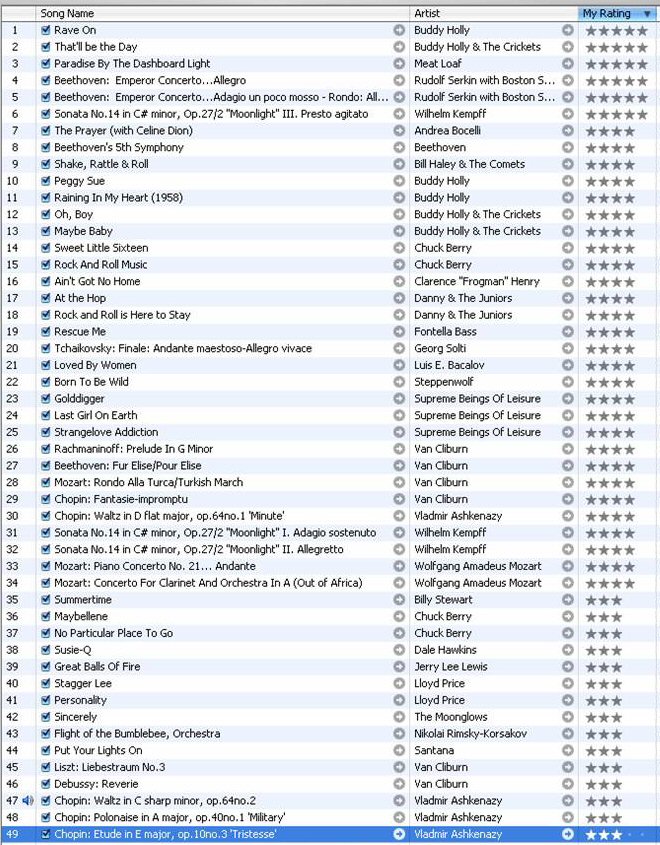 My iPod gets a lot of use.
Shown above are some of my current Top Rated selections.
Total collection on the iPod so far contains 1128 selections
(14 Genres, 211 Artists, 98 Albums, total time 3.7 days, 4.82 GB)
---
Some day I'll learn to make music, to play the piano or the sax, or a guitar. Until then, I listen. Here's what's on the entertainment system at home. I also have all my CDs loaded on to my PC, using iTunes. I like how it organizes everything and gives me so many options for ways to hear music.
If you play music on your PC while working, you'll like the Microsoft Internet Keyboard because it has extra buttons for media controls (+/- volume, mute, previous/next play/pause/stop, etc) so you don't have to mouse around. It also has some other slick features.
---
Remember when people used to get their music on CDs?
Wasn't that quaint?

My CD Collection
(Favorites in bold)
| | |
| --- | --- |
| Genre | Title |
| Classical | Bach: Brandenburg Concertos 1-6 |
| Classical | Bach: Organ Works |
| Classical | Beethoven: The Complete Collection (many CDs) |
| | Moonlight Sonata (Piano Sonata No. 14 in C# minor) |
| | Appassionata (Piano Sonata No. 23 in F minor) |
| | Emperor Concerto (No. 5 in E flat major) |
| Classical | Brahms: Piano Concerto No. 1, Ballades |
| Classical | Chopin: Piano Concertos |
| Classical | Chopin: Complete Works for Piano & Orchestra |
| Classical | Debussy: Preludes, Images, Esampes |
| Classical | Dvorak: Symphony No. 9 in E minor |
| Classical | Handel: Water Music |
| Classical | Mozart: The Complete Collection (many CDs) |
| Classical | Rachmaninoff: Concerto No. 2 |
| Classical | Tchaikovsky: Symphony No. 5 & Swan Lake Suite |
| Classical | Vivaldi: The Four Seasons |
| Classical | Vivaldi: Lute & Mandolin Concertos |
| Country | Willie Nelson: Redheaded Stranger |
| Indian | Asanas (yoga practice) |
| Indian | Vas: Offerings |
| Indian | Ravi Shankar: Chants of India |
| Irish | The Chieftains: Irish Evening |
| Irish | Enya: Shepherd Moons |
| Irish | James Galway & Phil Coulter: Winter's Crossing |
| Irish | Mary Black: Song for Ireland |
| Jazz | Miles Davis: Kind of Blue |
| Jazz | Jazz for the Open Road |
| Jazz | Jazz for Quiet Times |
| Jazz | Jazz for a Rainy Afternoon |
| Jazz | Kenny G: Live |
| Latin | Rough Guide to Salsa |
| Latin | Putumaya: Latino, Latino |
| Latin | Armik: Malaga |
| Latin | Battista: Pasion |
| Latin | Ottmar Liebert: Luna Negra, solo para ti |
| Latin | Ottmar Liebert: Nouveau Flamenco |
| Latin | Benedetti & Svoboda: Flemenco Dreams |
| Latin | Gipsy Kings: The Best Of |
| Latin | Peter Pupping: Guitarra de Paz |
| Latin | Peter Pupping: Samba Nights |
| Latin | Behzad: Gypsy Renaissance |
| Latin | Willie and Lobo: Gypsy Boogaloo |
| Latin | Willie and Lobo: Caliente |
| Latin | Willie and Lobo: Puerta Vallarta Squeeze |
| New Age | Deep Forest: Deep Forest |
| Oldies - '50s | Jerry Lee Lewis: Live |
| Oldies - '50s | Jerry Lee Lewis: Killer |
| Oldies - '50s | Vintage Collectors Series, Vol. 1 - 2 |
| Oldies - '50s | Vintage Collectors Series, Vol. 5 - 6 |
| Oldies - '60s | Vintage Collectors Series, Vol. 9 - 10 |
| Opera | Three Tenors: Paris 1998 |
| Opera | Andrea Bocelli: Sogno |
| Pop | Neil Diamond: Classics - The Early Years |
| Pop | Madonna: Ray of Light |
| Reggae | Bob Marley and the Whalers: Uprising |
| Reggae | The Heptones: Night Food |
| Rock | The Beatles: "1" |
| Rock | Santana: Supernatural |
| Rock | Ray Charles: My World |
| Rock | Paul Simon: Graceland |
| Rock | Supreme Beings of Leisure |
| Rock | Sting: Brand New Day |
| Rock | U2: Rattle And Hum |
| Soundtrack | 2001: A Space Odyssey |
| Soundtrack | Il Postino |
| Soundtrack | Out of Africa |
| Soundtrack | The Tango Lesson |
| Soundtrack | Snatch |
| Misc | Abba: Orinoco Nights |
| Misc | Blues Masters: vol 6: Originals |
| Misc | Kirk Whalum: For You |
| Misc | The Mar Dels: Christmas Collection |