(click photo to tour the rest of The Fun House)
"Fast Mikie's" Pool Page

---
The page you are looking at right now changes infrequently.
For much more up-to-date information about
what's going on with my pool shooting,
click on this link:


Fast Mikie Pool Stories
The Big Win
(a story of Karma and Victory)
Nothing Ventured, Nothing Gained
(the U.S. Amateur Championships)
Agony and Ecstasy in Las Vegas
(the National Team 9-ball Championships)
Fast Mikie Retires His Willie
(how I beat a world champion at 9-ball)
Fast Mikie Goes To College
(recollections of a time long ago)


Books on Pool
Check out my extensive library of pool books, DVDs, magazines, etc.
---
For me, shooting pool is relaxing, meditative, educational, and fun.
Just the sort of thing you would expect at Mikie's Fun House.
I like the way the Law of Physics applies to every shot,
every miss is a learning experience
and every turn at the table is an opportunity to create a thing of beauty.
---
The photo above shows my pool table, at sunset,
in the living room of Mikie's Fun House, Version 4.0 (current).
To the left of the pool table is the entrance to the office area.
The table is a brand new (August 2005) out of the box 9' Brunswick Gold Crown IV,
with 4.5" pockets and Simonis 860 cloth.
This table replaces the previous Olhausen (Remington) oversized 8' table.
The lights for the pool table are recessed into the ceiling,
because a hanging light would interfere with the ocean view.
The high intensity, low voltage lights, are on a dimmer
and controllable with the X-10 home automation system.
---
For 40+ years, I used a 22 oz. Willie Hoppe cue, which played very well.
On March 23, 2004 I retired my Willie Hoppe cue
after winning 2 out of 3 games in a match with World Champion Loree Jon Jones
in 9 ball in front of a room full of witnesses.
Click here to read the story!
It sure was one of the highlights of my pool playing career...
After joining the APA and doing a lot of hard breaking in 9 ball games,
I switched to using a Predator BK break cue,
and a Predator P2 playing cue
with a Z-shaft and a Moori soft tip.

After a year and a half of play with the Predator cues
I upgraded my playing cue to a Samsara one-of-a-kind (#1676)
using a Moori medium tip and a Predator 314 shaft cut down to 12.3mm.
After several months with the 12.3mm size,
I went with the unmodified 12.75mm 314 shaft.
My break cue was upgraded to the X-Breaker jump/break cue.
---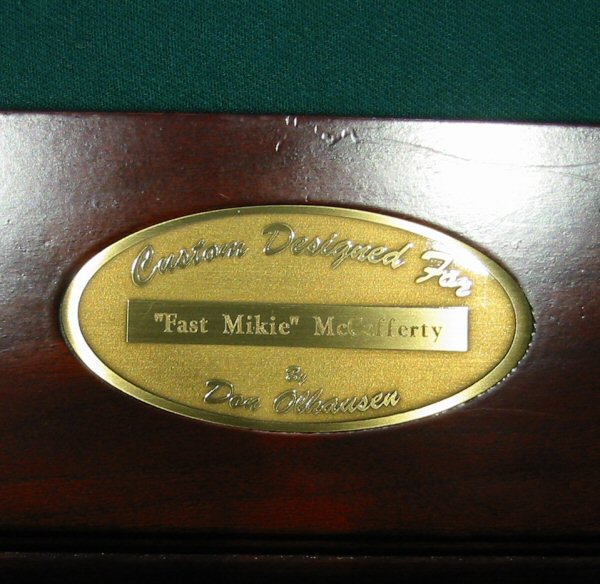 This is the build plate for my Olhausen table.
I gave the table to a good friend when I upgraded to the Brunswick Gold Crown IV.
I try to live up the the Legend in my own mind.
(Here is my plan to achieve that.)
---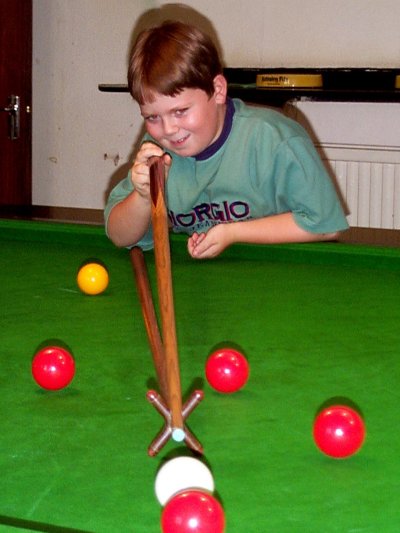 James (aka: The Snooker Kid), a young lad at The Conservative Club, in London England, 1997
who displayed an extraordinary confidence and one day may appear on the professional circuit.
I met him on my open cockpit biplane adventures in Europe.


Say Hello - Sign My Guestbook!
---
Go To Michael McCafferty Home Page
---