Let's go racing!
---

A guy doesn't just one day wake up and he's a race car driver. It's a long process that starts probably before he can walk, with the early experiences of being in a car, the vibrations, acceleration and braking, the familiar sounds of the car door closing, the engine starting, the air beginning to flow freely through the open window...

In my case, my obsession with cars and speed came naturally enough. My father was a Ford dealer (McCafferty Ford) in the Philadelphia area, and he got me addicted early on. He took me to races at the neighborhood track Langhorne Speedway and to the classics like the Indianapolis 500 and the US Grand Prix at Watkins Glen, New York. In addition to all of the automobile magazines he would bring home, I would buy hot rod magazines in preference to comic books. It wasn't long after getting my first car that it snowed and I had the opportunity to really experiment with the physics involved in moving an automobile across a surface. I would just love to get the car moving and then hit the brakes hard, locking up the wheels, and going into a skid, trying out different approaches of steering, power, and brakes to modify the skid. I got pretty good at it, and one story friends still tell is about the time I put my car into a series of 360-degree spins, while moving in a straight line down a two lane road with parked cars along both sides of the road. Never scratched a bit of paint. Anything that limited traction was fit for experimenting: rain, ice, sand, oil, wet leaves, grass, you name it and I would play with it. I liked to go the edge of adhesion. Brinksmanship. Control. Recovery. Risk. Learning. Again, I think it was my father's influence. He took me to see stunt drivers like Joie Chitwood, where they would jump the car into the air, launching from ramps, and drive on the two wheels on one side of the car. How can a kid NOT want to do things like that? So, even before I got into racing, I was still doing the racing thing in my head. Driving fast was never an option. It was mandatory. It is better to drive a slow car fast, than to drive a fast car slow. When I bought my first car after college, the '65 Mustang GT HiPerformance convertible, I could finally get into racing. I had a bit of spending money to cover the expenses, and that was in the days when it was relatively cheap. For two years I would drive that car all over Appalachia, selling computers for IBM, and on the weekends I would go racing with it, mostly autocross stuff. I had a ball, won lots of trophies, and learned a lot. Before you could race in SCCA (Sports Car Club of America) sanctioned races, you had to take a drivers school and learn the ropes. My teacher was a lady by the name of Arlene Hiss, wife of a famous driver at the time Mike Hiss. She would go on to become the first female Indy car driver! She was a real hot stick on the track. I was impressed and always had lots of respect for lady-drivers after that. I took my SCCA driver's school at Marlboro race track in Virginia.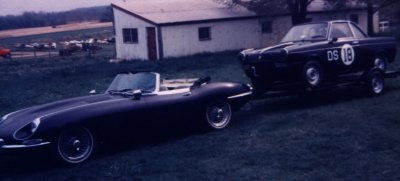 It was after I got a good job as a programmer that I could afford a cheap, full-on race car. There was one little BMW 700 that had been a hill-climb champion in its class for several years, but was finally outclassed by newer cars, and it was for sale by a mechanic who would be my pit crew during the races. His name was Ralph Loeser, and he kept that little car immaculate. After every race he would go over ever nut and bolt on the car and make it as good as it could be. He also accomplished the impossible by rigging up a tow hitch on my Jaguar XK-E roadster, so I could haul the Beemer to the races on an open trailer. I have never before or since seen an XK-E with a tow hitch!

Once, at the Lime Rock race track, I was telling Ralph that I was just a little nervous about going flat out down the main straight, keeping flat out down the hill, and flat out through the right hand turn at the bottom of the hill. I kept thinking back to the day when a wheel came off on my English Austin on a downhill right hand turn. Ralph looked me square in the eye and told me that unless I trusted him completely to make sure that such things would not happen, that I would never be able to go as fast as possible. It was his job to make the car strong, it was my job to drive it without worry. It was a great lesson in teamwork, and I went a lot faster after that. That little Beemer was a bunch of fun. It could corner like it was on rails, much quicker through the corners than almost any other car on the track. And it made an enormous amount of noise through the megaphone exhaust pipes. Although it was only a 2-cylinder, horizontally opposed, 698cc engine, it would rev way past 11,000 and make noises like banshees screaming in agony. It was great! Click here to learn more about the BMW 700.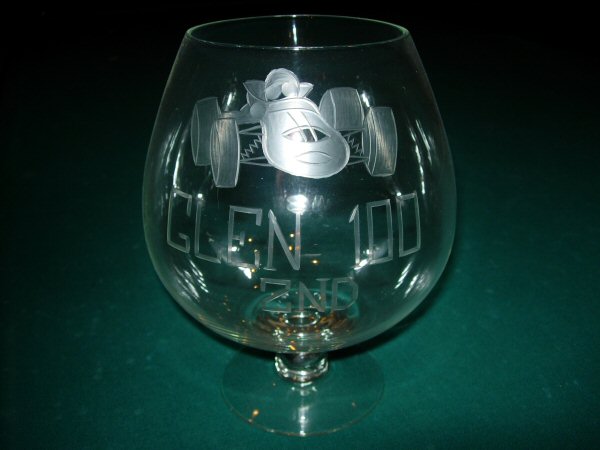 My Most Prized Possession
(actual size 7" high, 6" wide, inscription "Glen 100 2nd")

My best race ever was the only time I ever raced at Watkins Glen, NY. I came in second, but that was a heroic accomplishment because I had broken off the floor mounted gear shift lever early in the race, while I was way far out ahead of the rest of the pack. There's a great story here, and someday I'll get into it in detail! I still have the trophy from that race, an engraved glass brandy snifter, that has been my most prized possession ever since that day. Just the thought of slipping through the esses at speed at Watkins Glen... it still gives me goose bumps.

Another memorable race was my experiment with short oval track stock car racing at Hershey, PA. In my first heat, I won easily, and got $35 prize money. This was my first taste of cash, because all of the SCCA events were strictly amateur and we got trophies only. But since I now had prize money, I could write off the much larger expenses of the racing season, and it became a nice way for Uncle Sam to support my racing adventures. So, after winning my first heat at Hershey, I was allowed to take a pass at the next several heats while they ran eliminations for the main event. Hours later, I'm sitting in the pole position for the feature race, the entire field revving their engines ready for the flag to drop, when, from 3 rows back some hillbilly launches straight for my rear and knocks me out of the race! I figure they just didn't like some city-slicker from Philly coming out to their hometown track and showing up the local drivers, taking home all that good cash, so they drew straws to see who would show me how they play rough. I got the message. Never went back to Hershey. There were too many other places to play! All of man's endeavors must eventually come to an end. For me the end came in the form of a pretty little blond haired girl named Sharon, my new bride, who somehow convinced me that it was much more important to save for the children's college education than to be going around the country playing race car driver. Thus started the long dark period of life without racing, and was only recently revived when...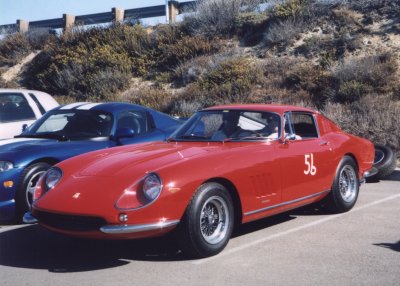 Racing my Ferrari 275GTB/4 at Torrey Pines Hillclimb
...I entered my vintage 1967 Ferrari 275 GTB/4 into the Torrey Pines Hill Climb in 1998. I installed a video camera on the rear package shelf to record this historic occasion. I'll put the video here someday, but all I can say is that the sound of a V-12 Ferrari engine pulling 7,000 rpm up a long hill is music that can make a grown man cry.
The photo at the top of this page shows me prepped for the '98 Torrey Pines Hill Climb, in the same Nomex driving suit I wore long ago. Still fits! This was the first time I had worn it to go racing in all that time. (I would sometimes wear it to Halloween parties... it was a way of remembering the good old days.)
The racing bug has bitten me several times over the years. I have good friends who race cars, and they seem to enjoy it too. It seems surprising to me, and yet quite natural, that my life at the moment is as enjoyable as it is, without a race car!
---
---