Copyright 1997 Vette Magazine
Cobra Concept
---
Carroll Shelby's original idea for a fast American sports car was this: the 1959 Scaglietti-built Corvette.
---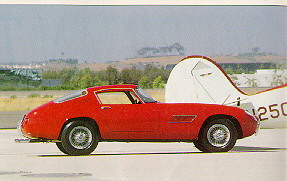 Winning three road racing championships in 1963 at tracks such as Bridgehampton, Road America, Mosport and Watkins Glen, followed by class wins in the 1964 12 Hours of Sebring and 24 Hours of Le Mans, plus numerous AHRA and NHRA national records the following year, not to mention countless others, the Shelby Cobra is the most successful American-built sports car of all time. The victories were hard-fought and achieved in convincing fashion. But, they were victories that could have been earned by a Corvette instead.
Five years before the Ford-powered Cobras were unleashed to a fast-growing, power-hungry sports car band of American enthusiasts, three Texans named Carroll Shelby, Jim Hall and Gary Laughlin decided to build a sports car to beat the Europeans at their own game. Jim and Gary both owned Chevrolet dealerships in Texas and, coupled with Jim's and Carroll's connections with some of the top brass at Chevrolet Racing, they were able to purchase three 1959 Corvette chassis -–sans bodies – to build their ultimate sports car.
From the St. Louis assembly plant to Modena, Italy, three bare Corvette chassis were sent to coachbuilder Carrozzeria Scaglietti to be clothed in a lightweight alloy body reminiscent of the Ferrari Tour de France, one of the most beautiful cars ever built. To put their car into production, factory support was needed to obtain frames, engines and gearboxes.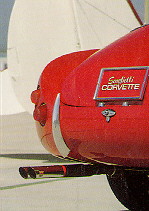 Carroll then presented his completed concept to General Motors' vice president Harley Earl and chief engineer Ed Cole, who liked the car and approved of the idea. Unfortunately, their superiors did not, as during the car's construction Chevrolet had a policy change that eliminated all racing sponsorship. Years later, Carroll presented this same concept, but using a ford 221-cubic-inch V8 housed in a British-built AC Cars' Ace body instead, to Ford. Thus was born the Cobra and the rest, as they say, is history.
Known today as the Scaglietti Corvettes, all three cars are highly prized by collectors the world over, as witness the current owners. Gary Laughlin's car was the first one built and currently resides in a large collection in Japan. The second car went to Jim hall, was restored in 1989 and shown at the prestigious Pebble Beach, Santa Barbara and Newport Beach concours. At the Barrett-Jackson auction in Scottsdale in 1990, this stunning machine brought a world record price for an auctioned Corvette when the bidding stopped at just under a half-million dollars. It is now part of the Patrick Getriede collection in France. Our feature car was the third of three cars built, and the only one to remain in America. Originally known as the "Shelby Car", it is recognized as the best-looking of the three, and is owned by Californian Mike McCafferty.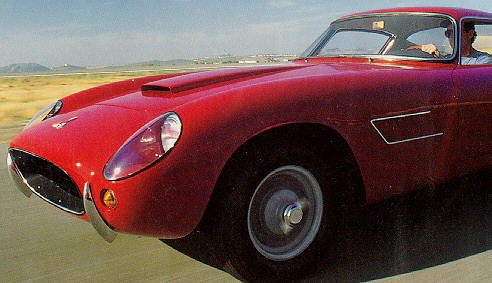 After it was restored in 1990, then-owner Barry Watkins received an invitation to display the car at Pebble Beach Concours d'Elegance that year in the European Coachworks class. Three years later, Barry decided to sell the Corvette to finance his production of the Bizzarrini Z001 sports car. Mike, who had just sold his growing software company, purchased the coachbuilt Corvette and proudly displays it in his hangar, where it sits alongside his 1935 Waco YMF Biplane and 1967 Ferrari 275 GTB/4. Mike is living the dream of every hardcore motor enthusiast as the hangar is also his home: His bed is less than 30 feet from his cars and plane. That's living!
As mentioned earlier, the chassis is a standard 1959 Corvette and is completely stock. The 283-cubic-inch V8 puts out 315 horsepower and features the Rochester fuel injection system. The gearbox is a 4-speed Borg-Warner T-10 with a Hurst shifter and linkage. Excluding the fuel cell, the rest of the chassis, including the entire braking and suspension systems, are all factory stock components, just like you'll find on any other Corvette of that year. The body, however, is different and, oh, so sweet.
Built in the classic Italian coachbuilder tradition, all three Corvettes had aluminum-paneled bodies that were individually handmade, using the time-honored method of hammers and dollies. Gauging the shape strictly by eye, the Italian artisans slowly sculpted every panel by pounding flat sheets of aluminum with large wooden mallets. Sandbags and tree stumps were the surfaces that the aluminum was hammered against. The end result, besides being bestowed with a uniquely shaped body, is a '59 Corvette that is 400 lbs. Lighter in weight.
Unlike the other more famous Italian coachbuilders, such as Bertone, Pininfarina and Zagato, Carrozzeria Scaglietti's owner, Franco Scaglietti, preferred small production runs of maybe a half-dozen bodies at most to larger runs, which is why he was contracted by Carroll Shelby to build the three special Corvettes. Scaglietti was also known as Ferrari's in-house fabricator, and has constructed perhaps the two most famous Ferraris of all time: the GTO and the pontoon-fendered Testa Rossa.
Staying true to its Italian heritage, the Scaglietti Corvette is finished in a beautiful shade of blood red that's complemented by a tan leather interior. Beginning with the nose, the Zagato-like front end features headlights that are enclosed with glass covers , which are purposely formed to continue the flow of the body's front-to-rear horizontal line. Louvered vents outlined with a thin strip of chrome trim are shaped into the front fender just behind the wheels to release unwanted heat from the engine compartment. Up top a simple hood scoop provides the Chevrolet small-block with fresh air, while the egg crate-style grille -- an Italian coachbuilding styling theme -- is not only aesthetically handsome but very functional, allowing the water in the radiator to remain cool..
The fastback body shape features seven louvers in decreasing size just aft of the side window, a styling exercise influenced by Ferrari's tour de France sports racer. Four delicately designed bumperettes are fitted at each corner and are shaped to match the contour of the adjoining bodywork. This Corvette's pointed rear panel treatment, which is deeply sculptured to lend the appearance of having separate fenders, is quite functional, providing direction for the air flowing over the top an easy exit into the airstream.
Other noted Italian designed trademarks of the era include a metal dashboard covered in a satin black crackle finish, a Nardi wood steering wheel, twin Ansa exhaust and Borrani cross-laced wire wheels. The badging combination of Scaglietti's rectangular logo and the Corvette's crossed flags showcases this rare American-Italian partnership to all.
"I bought the Corvette because it was so rare, being one of three and historically significant, and I thought it would be a good investment," Mike told us. "I was going to go vintage racing with it, but haven't gotten around to it yet. I'm having more fun right now in three dimensions playing with my biplane. But on the road the Corvette is a fire-breathing monster and sounds like it due to its straight pipes. The steering and clutch are very heavy; you need to be well-nourished before attempting to drive it."
The combination of good old American ingenuity and engineering with that of stylish Italian design and craftsmanship has resulted in three extremely rare Corvettes, which may very well be the prettiest Vettes ever made. Unfortunately, due to Chevrolet's short-sightedness, only three owners can enjoy the beauty and performance of what is certainly one of the world's greatest limited production sports cars ever built: the Chevrolet "Cobra".
---
Note: About 3 years after this article appeared in Vette Magazine in 1997 the owner sold the Scaglietti bodied Corvette to the Petersen Museum in Los Angeles where it resides to this day.
---