The Sea
---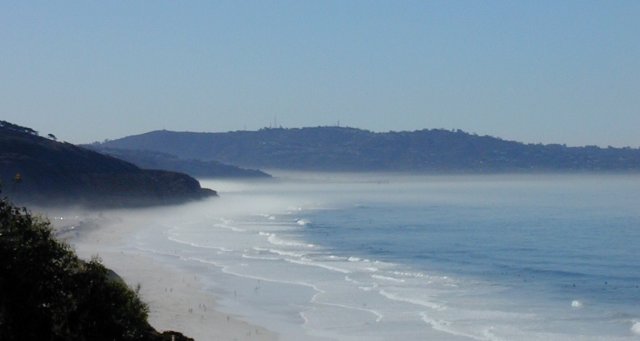 Click here for video clip of entire 180 degree view (3.6mb)
Misty morning view to the south, Torrey Pines beach, taken from the southwest facing balcony of Mikie's Fun House #3. At the top of the hill on the left is Torrey Pines, and beyond, on a clear and windy day, you can see the hang gliders riding the ridge at the Torrey Pines Glider Port. At the far right end of the land mass is La Jolla.
---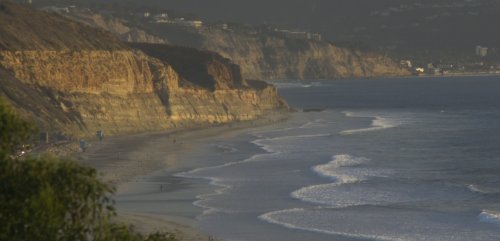 Same view, taken at sunset 11/08/2000
with Nikon D1 with 2x converter on 135 zoom.
---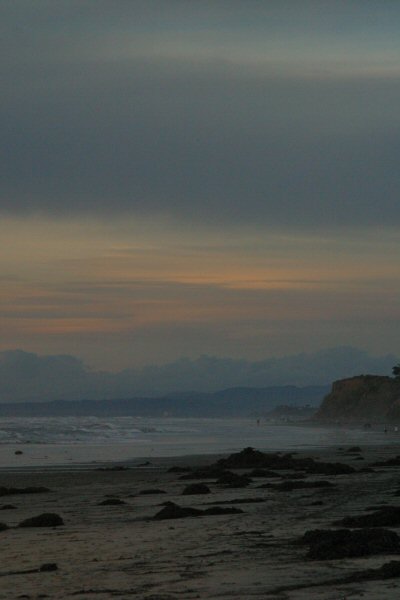 Frisbee Beach, looking north toward Del Mar (CA) from Torrey Pines Beach.
Photo by Russ Lyon, last day of 2004.
---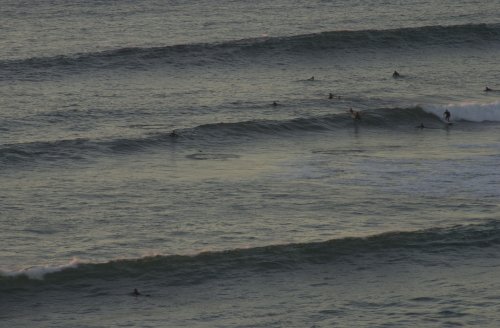 View to the north, on a good surf day. November 8, 2000.
Taken with Nikon D1, 2x converter on a 135mm zoom.
---
---
I could probably write forever about the sea. I love to live next to the sea because it is so filled with life. The dolphins playing below my windows, the pelicans gliding effortlessly in front of the waves, the ever changing video of human life on the beach and the cliff trails... A wonderful variety of airplanes, and sometimes even some biplanes come dance mock dogfights in my sky! I also love the fresh air, always arriving clean from the west, last breathed by Polynesian maidens (or so I would like to think). No insects, no pollen. Nothing for thousands of miles. Face west, and every living being is behind you, solitude is complete on a moment's notice, but just as quickly you can return to civilization.
I have lived directly on the oceanfront for about 30+ years, in various towns along the coast north of San Diego, including the Ocean Beach Pier, La Jolla, Del Mar, Solana Beach, Encinitas, and Carlsbad. Of them all, Del Mar is the best.
---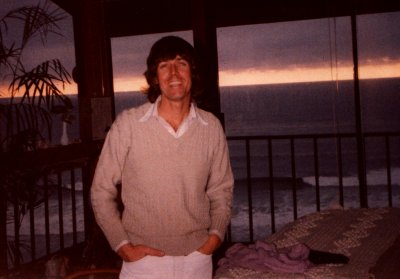 The photo above was taken in my first oceanfront home, in Encinitas, CA, around '79-'80, directly north of the famous "Swami's" surf spot. There were many good times while I was living there!


---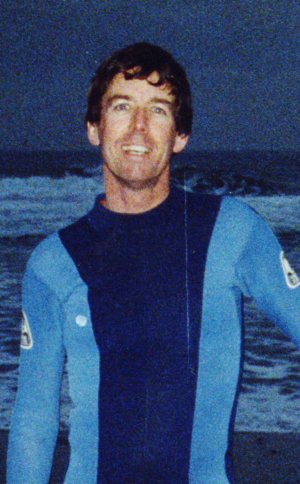 Photo taken around 1990, while body-boarding early in the morning, during a raging winter storm, with good friend George Hoover. I really got hammered, but George swims like a dolphin! At the time, George was a successful triathlon competitor and my personal trainer. We would attack at dawn and every day would be a different workout; sometimes running, or frisbee, or soccer, or ????.
---
Michael McCafferty Home Page
---