It all started with a phone call. Ferrari Owners' Club (FOC) member Michael McCafferty called to say he'd like to host a party and invite Ferrari Club members to his "Fun House", out in Borrego and make some new friends.

We hadn't formally met yet, but we had seen each other briefly at last year's "Schumann Express". I say briefly, because our group was on a back road to Mexicali somewhere around 135mph and we "briefly" saw Michael when he passed us in his immaculate 275 GTB/4. He suggested we might be able to tie in this year's Schumann Express with a "Fun House" party. So we called John Schumann to get his thoughts and, in about a second and a half, the deal was done and the adventure began.

Many of us had read the article in the October '96 Pilota on "Mikie's Fun House", but I'm not sure anyone understood the scope of it and we were anxious to get a look. Our group had 28 cars that signed up, each enthused and ready for a new adventure.

Not everyone wanted to do the higher speeds of the Schumann Express, so we set up two extra ride and drives taking a more leisurely route through the mountains. One route was more convenient for the local San Diego area members and one was for the people coming in from the North to cut down on the miles, but still get a beautiful drive. The drive over the Sunrise Highway lets you look down 6,000 feet to the desert floor, while cruising through the cool pines and both went through the historic village of Julian.

Although Tricia and I were to lead the Sunrise Highway group, we had time to do the first half of the Schumann Express, which consisted of 14 cars this year, out to the Desert View Tower for refreshments and a quick restroom stop before the high speed part to come. Everyone met on time at Starbuck's in the Hillcrest area and had just a great ride. This first half is known as the slow half, but we noted we were in the 105-110 mph range a couple of times, so you can imagine the second half! From the View Tower, it's basically wide open and lightly travelled, the group had a clear shot all the way through the desert to the Fun House. We are happy to report: no problems, no tickets, no accidents, and no breakdowns on any of the drives. Our thanks to John for organizing such a great express run each year.

(story continued below this photo)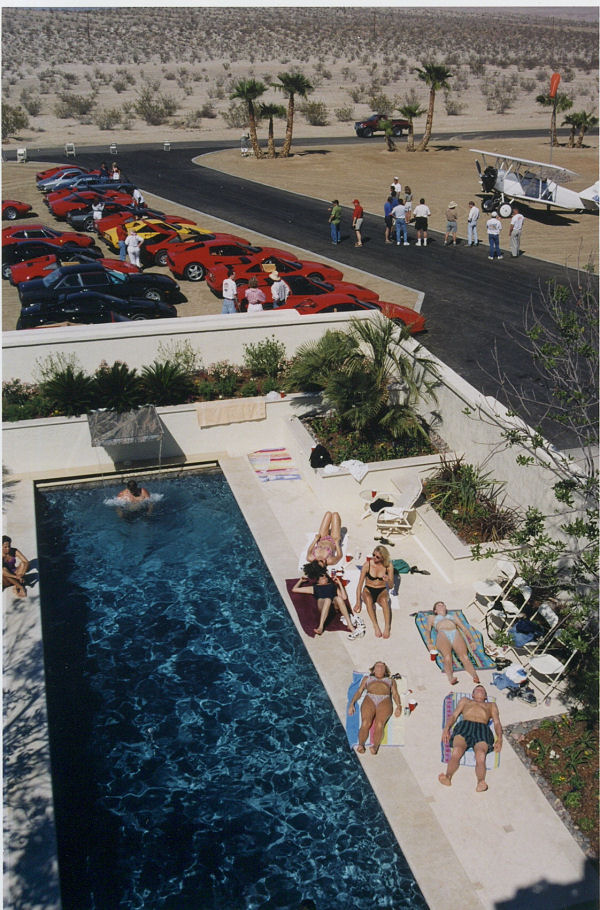 (click for larger image)
Our groups began converging on Mikie's around noon and were greeted by Michael and his girlfriend, Shari, to special parking and a catered lunch. We were also greeted by biplanes and about 350 of Mikie's closest friends. This guy doesn't think small. Michael did restrict the special parking to only Ferraris, though. One of our FOC members, we can't name (Dan Crow) brought his Lotus, so Michael made him park it around the side behind a garage... Michael was afraid the Ferraris might get damaged if the Lucas electrics in the Lotus decided to get a case of spontaneous combustion, as of course they are prone to do.
It turns out that Mikie's Fun House is everything we'd heard and more!!! There were a variety of games and activities that had been planned, including bocce, darts, swimming, biplane rides, Ferrari rides, socializing, and meeting new friends. The Fun House really is a plane hangar that has been converted and remodeled into a unique luxury home that just happens to have enough room to park his biplane next to the stereo. Beautiful furnishings on the beautiful white carpet, first class kitchen area, upstairs was his private suite with a bar/game room with people playing darts, Monopoly and Scrabble. From that area you walk up another flight of stairs to a tower that overlooks the entire complex: air strip, granite pool with waterfall and a 360 degree view of the Anza-Borrego desert. Complete with a hammock to relax in and a telescope to watch the stars.
As the afternoon wore on, the activities never slowed. Many of us went to our hotels to clean up and get ready for the evening's activities. When Tricia and I returned to the Fun House, it had just turned dark and the surrealism of it all hit us. The brilliant glow of the bright lights from the Fun House cast strange shadows among all the people, the biplanes and the Ferraris. It was like some strange dream. The catered dinner was wonderful. Lots of good food, soft drinks, an open bar for all and desserts. Everything for a fantastic time. What a host!
And then came the band, the very popular Mar Dels, that specialize in the 50's and 60's music. They were excellent musicians and the dancing went on for hours. Special thanks goes to Carol Soria, who handled all the behind-the-scenes preparations and organization.
The magical adventure came to an end around mid-night. Sighs of disappointment could be heard as the last song came to an end. The band announced that Michael had arranged for rides home for anyone that had too many drinks... what a classy gesture, and again, what a host.
Michael has indicated he just might do this again next year, after he recuperates. If you get the chance, don't miss this very, very special event. Each and every one of our members that went said they were already looking forward to the next one. Yeah, Mikie made lots of new friends.
---
(c) 1997 Ferrari Owners' Club,
reprinted with permission from May 1997 issue of "Pilota".
Story by Dick and Tricia Nelson.
---
---