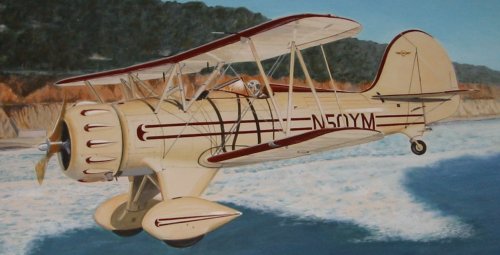 Waco biplane #50YM, "The Spirit of Adventure"
Michael McCafferty
&
"The Spirit of Adventure"
European Biplane Tour
08/30/97 - Roots

---
County Donegal, Ireland
For three months I have been looking forward to landing my biplane into County Donegal. I have thought that if I were able to get here, then the whole tour would be worthwhile.
Bravely situated on a narrow spit of land thrust into the unforgiving North Atlantic Ocean, this little airport is a bright sparkle on the Emerald Isle, in the midst of some of the prettiest landscape in the world.
County Donegal, Ireland is the birthplace of my father's father's father, and probably many fathers before him. For me, it is like coming home.
Early this morning, in Newcastle-Upon-Tyne, England, the weather looked marginal. It was only my optimism that made it seem flyable. There was a low solid overcast, and the air was quite cold, but the visibility was good. I resolved to check out of the hotel, go to the airport and wait until conditions improved enough to fly. I would wait all day if I had to, then check back in to the hotel if I couldn't fly. My caution was unwarranted, as the sky soon brightened, the clouds separated and there appeared great patches of blue. By the time I got to the airport, it was a spectacular day to fly!
My plan was to fly directly to the west coast of England, the small military airport of West Freugh, refuel and check weather before crossing the Irish Sea, bypass Belfast and fly straight for Londonderry in Northern Ireland, where I would stay overnight, then fly to Donegal in the morning. It went better than I expected, in some respects.
Preflight preparation was interrupted several times with many people coming around to check out the biplane, take pictures, ask questions, tell stories, etc. This is the first time a Waco Super has ever been in England, so there are plenty of people who want to get a look.
I wish I had taken more time to talk with one person in particular. It seemed as if there were so much in common. His name is Gary Foster, and he works at Samson Aviation, the FBO where I hangared my plane. He will be going on vacation to the US next week and the first stop is Philadelphia, my home town, to go to the Eagles/Packers game, then on to San Diego, my new home, for a couple of weeks. He wanted to rent a plane in San Diego, so I suggested that he call John Hughes, a fellow Brit, at Oceanside airport. It was amazing to find someone in such a remote corner of the world as Newcastle, and within just a few moments of small talk, find so many common threads.
Finally taking off runway 07 into the calm air of Newcastle, I turned left to 270 degrees, staying below the cloud bases at 2400 feet. Soon I was flying over Hadrian's Wall, reflecting again on the folly of it all. As I progressed farther west into a mild 10 knot headwind, the clouds thickened and forced me lower and lower until I was cruising at only 1200 feet. And then the clouds separated again, and the high ground fell away, and I was flying over wide beaches and rugged cliffs enjoying the scenery. Then the cloud layer reappeared.
This time I had to climb above the layer that was facing me, and eventually I was forced to more than 5500 feet, and getting very cold. There was no relief in sight as I neared the west coast of England. West Freugh was closed for the weekend, so I would have to continue across the Irish Sea above the clouds, without refueling, and with no land, and very little sea, in sight. It wasn't anywhere as nerve-wracking as my crossing of the English Channel, but I would have to admit to being a little on edge about it. All I could see in all directions were clouds, all the way to the horizons. It was only by looking straight down that I could catch a brief glimpse of Irish Sea.
I was in touch with Belfast Approach Control for the whole time, and they told me the weather at Londonderry was good, with 2500 foot ceilings, and 30 kilometer visibility. The only problem I could see was how I was going to get down under the clouds so I could find Londonderry, and I was also very much wanting to get lower to get warmer.
Just in time, a hole in the clouds appeared, and through the hole I could see the east coast of Ireland! The hole was just barely big enough for me to dive through, but I figured I wasn't going to get a better chance, so I went for it. It was great to see Ireland from the air, even if it was Northern Ireland. Actually, it was great to see Any Land after being stuck on top of the clouds over open water.
Here's a photo of my first view of Ireland from the air, while diving through a hole in the clouds. The photo is taken looking forward through the windshield. The black thing on the upper wing is the wet compass, pointing West.
By the time I was over land again I was finding myself back in the old game of Squeeze Play again. The clouds lowered and the ground rose up, leaving me less and less room to maneuver. The visibility dropped dramatically as rain showers developed and faded as if in a vague dream. I was able to continue to Londonderry only by weaving through valleys which seemed to always be in the right places to avoid the heaviest of the rains.
I couldn't avoid all the obstacles, however. I was just too busy dealing with the rain and the terrain, as well as looking for traffic, and I didn't look at my charts for a few minutes, so I missed the military parachute jump zone and flew right through it. Fortunately, it was not raining jumpers at the time, but the air traffic controller mentioned that we would have a discussion about it when I landed. He had noticed that my ground track was taking me into the zone, and tried to radio me, but my radios were acting up again and I couldn't understand him, even after asking him to repeat several times. I really must get those radios checked out.
The people at Londonderry were very pleasant and helpful. They told me that all of the restrictions and regulations regarding Customs clearance, "Special Branch" notification, and airport prior notice had been eliminated, and that I could fly on to Donegal without anything more than a flight plan, required because it was considered an International flight from Northern Ireland to the Republic of Ireland. Maybe someday it will be all one Ireland again.
I had planned to stay over in Londonderry, but Donegal was only 42 miles away. I could almost see it from the control tower at Londonderry. The visibility was still good, and even though I would possibly have to skirt a rain shower or two on the way, I decided to go for it. It was just too tempting. I had a quick lunch, refueled and I was back in the air within 90 minutes.
In spite of the unfamiliar terrain, the low clouds, and the rain, I felt a great ease come over me as I flew for the first time in the Republic of Ireland, watching the small green pastures and farm lands slip slowly under my wings. This is the land of my ancestors. McCaffertys have inhabited this place for many centuries, and though I may be the first in our clan to fly over this countryside, I feel very much at home.
The landscape of Donegal is quite varied, ranging from vast stretches of patchwork farms, lots of hills, rivers, valleys, lakes, peninsulas, islands, villages, and one little airport sitting all by itself next to the ocean. I went the long way, taking some extra time to enjoy the scenery, and then at long last, after 3 months of anticipation, I finally touched down at Donegal. It was so very sweet.
Above photo of our roving biplane pilot, at the County Donegal airport. The monument stone is cut in Gaelic, the local language. English is taught as a second language.
Above photo, taken from my hotel room, shows the inlet to the Atlantic, and the typical Irish sky filled with rain-swollen clouds.
Previous Day
Next Day
---
Go to Table of Contents - European Tour
Go to Biplane Adventures Page
Go to Michael McCafferty Home Page

---