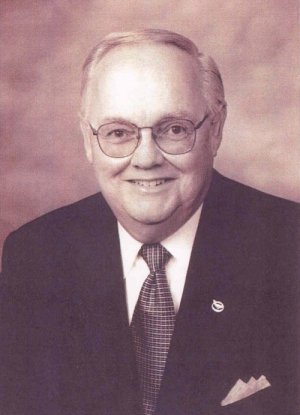 Ronald P. Bird
July 31, 1940 - January 13, 2003
Born to Phillip and Opal Bird of Tucson, Arizona, Ron was baptized and raised in the Methodist Church. He married Linda Thurston in 1960 at the North Tucson Baptist Church. They moved to La Jolla in 1967 and began attending St. James by-the- Sea Episcopal Church. Ron was confmned as an Episcopalian in 1990 by Bishop Brinkley Morton. After moving downtown, Ron and Linda joined the congregation of St. Paul's Cathedral to support the church in their community.
Ron earned a B.S. in accounting from the University of Arizona and began his career in 1959 at Valley National Bank in Tucson. His San Diego banking career included working as the VP/Manager for San Diego Trust & Savings Bank's La Jolla office, Executive Vice President and Member of the Board of Directors of La Jolla Bank & Trust Company, and as President/CEO of Bank of Southern California. In 1993 Ron joined friends Murray Galinson and Robert Horsman at San Diego National Bank as Senior Vice President and Director of Business Services. In 200 I he left to pursue his dream of creating a new community bank from the ground up. In August of 2002 that dream was realized when Landmark National Bank opened its doors with Ron serving as Vice Chairman and Member of the Board of Directors alongside Ron Carlson, his long-time friend.
Throughout the years Ron made many life-long friends through his love of life and commitment to community. He gave freely of his time, energy and resources to support many great causes, including Episcopal Community Services, Mainly Mozart Festival, The Bishop's School, San Diego Opera, Lincoln Club, San Diego Performing Arts, Share a Vision, Museum of Photographic Arts, Sidney Kimmel Cancer Center, Burnham Institute, and Second Chance. The Juvenile Diabetes Foundation also recognized Ron as its 1998 "Father of the Year." He has been a mentor and role model for many.
His last Christmas was spent aboard a cruise through the Hawaiian Islands with his cherished family, beloved wife, Linda, daughter Leslie Voss, son-in-law Chris Voss, and two beautiful grandchildren, Victoria and James Voss. In addition to his wife, daughter and her family, he is survived by five godchildren, a loving extended family and numerous close friends and associates.
Contributions in Ron's memory may be made to Episcopal Community Services, The Bishop's School, Burnham Cancer Institute, the Mainly Mozart Festival, or the Northwest Community Friends Church in Tucson, AZ.
---