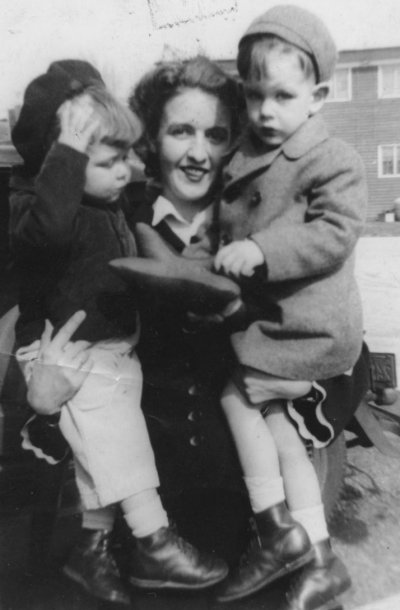 "MOM"
August 14, 1916 - October 19, 2004
---
Here is Mom's obituary, printed in the newspapers:
Verna M. (Meier) McCafferty
McCAFFERTY VERNA M. (nee Meier), on Oct. 19, 2004, of Blue Bell, formerly of Glenside,
beloved wife of Charles F. "Bud"; loving mother of Charles F. Jr. "Bud" (Linda), Michael, Verna Walters, Kathleen Bean (Zenas), James (Barbara) and Eileen Koolpe (Harvey); also survived by 15 grandchildren, 7 great grandchildren and 2 sisters, Jean Ebaugh and Mary Toner. Funeral Mass Sat., 10 A.M., Church of St. Luke the Evangelist, Glenside. Relatives and friends are invited to THE WILLIAM R. MAY FUNERAL HOME, Easton Rd. and Keswick Ave., Glenside on Fri. 7 to 9 P.M. Int. Our Lady of Grace Cem. Donations to Catholic Relief Services, PO Box 17090, Baltimore MD 21203, would be appreciated.
Published in the Philadelphia Inquirer & Philadelphia Daily News on 10/21/2004.
---
Eulogy to Mom
delivered by her youngest child Eileen:
Saturday, October 23, 2004
St. Luke's Church
Mother's Eulogy
On Monday, when Mother became very ill,
Mike called Kendra in San Diego to tell her.
Mike's youngest right away wrote this note and sent it to her.
I'd like to read this to you now:
Dear Grandma,
I want to let you know that I love you
and that you have always been very special to me.
I think about you often, and I smile inside when I think of you
talking about the way life was when you where younger,
the story of how you and Grandpop got married,
or even when I think to use a saucer when serving tea.
I treasure the time I've spent with you.
You are an amazing person.
I am truly blessed to be your granddaughter.
Love,
Kendra
We are here because we loved her.
We want to celebrate her life.
Celebrate because we were loved.
Celebrate because we knew a warm, loving, spiritual person
who just kept loving us.
And she was the definition of a lady.
What a superb role model for her 3 sons and 3 daughters.
Kendra said it: We treasure the time we spent with her.
Mom had a favorite poem by Edna St. Vincent Millay. It was:
My candle burns at both ends
It will not last the night
But ah, my foes, and oh my friends
It gives a lovely light.
That was Mom!
She lived a wonderful, full life.
Yes Mom, you gave a lovely light!
Good Night and God Bless You, Mom.
---
One of the songs played at the funeral is "On Eagles' Wings"
My favorite part:
And He will raise you up on eagle's wings,
Bear you on the breath of dawn,
Make you to shine like the sun,
And hold you in the palm of His Hand.
---
Video clip of Mom & Dad, August 19, 2003 (birthday kiss)
---