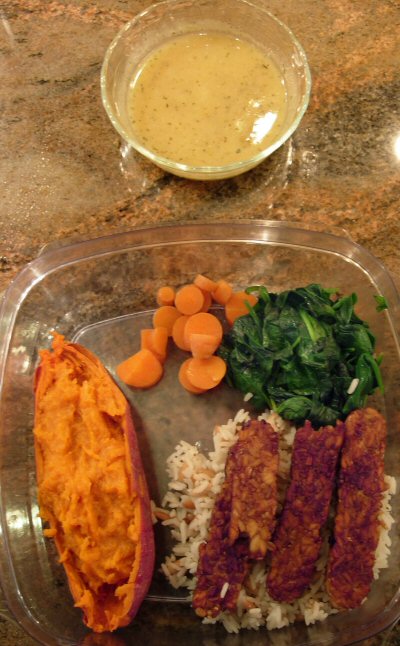 (click for closeup)

Rice Pilaf, Yam, Tempeh and Spinach
With Lemon Butter Sauce
---
Entree Ingredients (Two Servings)
½ box of Casbah Rice Pilaf Mix
1 cup water
½ tsp. olive oil
pinch salt
1 large yam
½ tsp. Braggs
1 TB. Earth Balance
2TB. maple syrup
1 package of pre-washed spinach leaves
Tofu or Tempeh
2 TB tamari, 1 TB oil

Lemon Butter Sauce Ingredients (Two Servings)
½ tsp. lemon juice
½ tsp. Braggs
1 TB Earth Balance (butter)
½ tsp. grated parmesan cheese
2-3 TB water


Preparation
Rice Pilaf: Heat one cup of water in saucepan and bring to boil.
Remove seasoning packet and add ½ box of Rice Pilaf and a little olive oil.
Stir and remove from heat. Let sit for 5 minutes covered.

Lemon Butter Sauce: Mix water, Earth Balance, ½ of seasoning packet, lemon juice, and Braggs to taste.
Heat in a small saucepan, stirring frequently until everything is mixed.
Add parmesan.

Yam: Bake in microwave until soft.
Let cool.
Cut in half and scoop out insides leaving the shell whole.
In a bowl, add yam, maple syrup, Braggs, salt, earth balance.
Mix well and put in the half shells.

Spinach: Add a little lemon butter sauce in saucepan and bring to medium high.
Add handfuls of spinach and cook quickly until just wilted.

Tofu or Tempeh: Cut in pieces and brown in saucepan with Tamari sauce.
Add oil and continue to brown until light brown.

Arrange all this in a covered casserole dish.
Cover and refrigerate until ready to serve.

Heat and serve. Add the lemon butter sauce to the couscous for extra flavor.