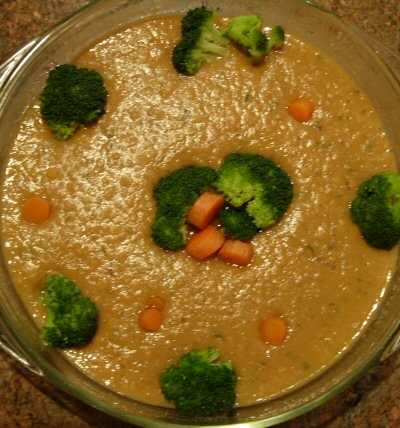 (click for closeup)

Red Lentil Soup
---
Ingredients (Two Servings)
1 cup red lentils
1 TB nutritional yeast flakes
1/8 cup chopped onion
½ cube vegetarian bouillon
½ tsp. sweetener
¼ tsp. garlic powder
4-6 broccoli flowers
½ carrot chopped
1 celery stalk, chopped
2 TB oil
½ tsp. lemon juice
Braggs to taste
4 cups water

Preparation
Rinse and drain lentils. Cook lentils in 4 cups water. Cook until almost done, about 20 min. In separate pan, sauté chopped onion and celery. When the lentils begin to get tender add the sautéed onions and celery and the rest of the ingredients, except for broccoli and carrots and cook another 10 minutes until flavors blend.
Lightly steam broccoli and carrots and add to top of soup for color and garnish.
Chill.
Serving: Heat the desired amount in saucepan and serve hot.