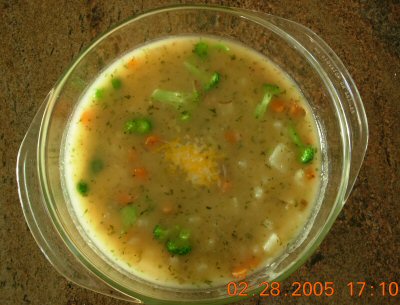 (click for closeup)

Potato Soup
---
Entree Ingredients (Two Servings)
1 ½ russet potato cubed
½ stalk of celery, chopped
2-3 TB chopped onion
1 TB parsley
4-5 baby carrots, sliced
1 TB Earth Balance
1 tsp. Tarragon seasoning
¼ slice of lemon juice
3 TB no chicken bouillon
1-2 TB. oil
vegetable bouillon cubes(1/2 cube or ½ tsp. powder)
dash of garlic powder



Preparation
Add chopped onion and celery to oil and sauté until light brown. Add ½ of the cubed potatoes and continue to heat. Stir frequently until some of the cubes are light brown.
Add 3 cups water to pot and add the rest of the potatoes. Cook until the potatoes soften and begin to fall apart. Add carrots and cook 2 more minutes.
Finish with adding bouillon, 2 TB. butter, a squeeze of fresh lemon juice to taste, and seasonings. Cook 2 more minutes until seasonings are blended and until soup is thoroughly mixed. Allow to cool and refrigerate.
To serve: Heat in pot until just before boiling, pour into bowl.