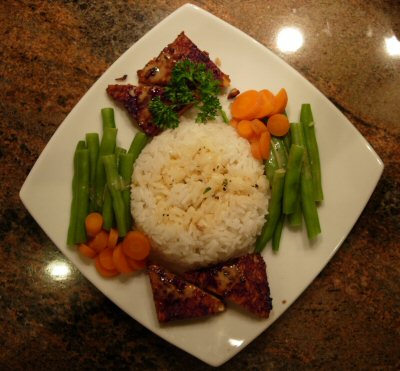 (click for closeup)

Thai Rice & Tempeh
with
Curry Sauce "Lisette"
---
Entree Ingredients (Two Servings)
½ cup basmati rice
1 cup water
1 TB oil
½ block tempeh (or tofu)
1 TB tamari
Lightly steamed green beans and carrots ( or other approved veggie)

Sauce Ingredients
½ tsp. Red Thai curry paste
1 sm can of coconut milk
3 TB No-chicken powder
dash of salt
½ Lime to taste
2 tsp. sugar
½ cup water
1 tsp. oil

Preparation
Rice: Heat 1 cup of water in saucepan and bring to boil. Add rice and cook until all water is absorbed. Divide rice and put in bottom of 2 single serving casserole dishes.
Veggies: Lightly steam green beans and carrots and add alongside the rice in casserole dishes.
Tempeh or tofu: In a saucepan, add tamari and turn on medium high. Cut the tofu or tempeh in small cubes and marinate with tamari. Put in saucepan and sauté until tamari has evaporated. Add oil to saucepan and finish browning. Drain excess oil on a plate with paper towels.
Sauce: In saucepan, add oil and Thai curry paste. Lightly sauté the curry paste in the oil. Add no-chicken powder, sugar. salt and lime to water and dissolve. Add this mixture to the curry paste in saucepan. Mix well. Lastly add coconut milk and bring to simmer then remove from heat.
Pour a little of sauce into casserole dish on top of rice. Add the sautéed tofu or tempeh on top. Cover the dish. Put extra coconut curry sauce in small Tupperware side dish.
Serving: Heat 2 minutes in microwave, add extra sauce to taste,
and continue to heat for 1 more minute.
Notes
This is M's favorite meal.
The secret ingredient in this meal is the sauce "Lisette".
Words fail to describe this extraordinary nectar of the gods.
Lisette instructed M. in the practice of yoga,