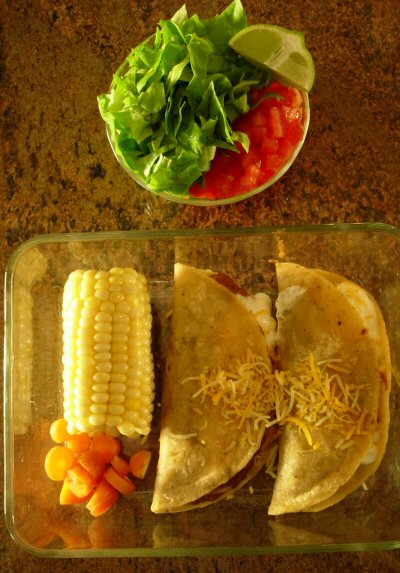 (click for closeup)

Beans and Rice in Corn Tortilla
---
Entree Ingredients (Two Servings)
1 can Pinto Refried Beans (Amy's)
1 pkg. Trader Joes Spanish Rice (optional)
3 TB chopped onions
3 TB chopped celery
¼ cup grated cheese
½ tsp. Mexican Seasoning
Vegie seasoning
4 corn tortillas
Chachies Salsa
2 TB oil
sour cream
¼-½ Juice of lime
ear of corn
avocado slices (optional)

Preparation
Sauté chopped onions and celery in oil until lightly browned. Add veggie seasoning and Mexican seasoning to taste. Stir. Open can of organic pinto refried beans and add to the above mixture. Blend and heat.
Partially thaw a package of the Trader Joes rice. Remove any pieces of green bell pepper.
Lightly heat a corn tortilla in saucepan with a little butter.
Arrange a large spoonful of the beans mixture on the corn tortilla. Add sour cream and sprinkle with grated cheese. Fold over and place in casserole dish. (Two tortillas per casserole dish.) Sprinkle small amount of grated cheese on top for garnish. Add rice as a side serving.
Serve with corn on cob or steamed veggie.
Cover and refrigerate.
Serving: Heat plate in microwave for 3 min. Serve with Chachies salsa, sour cream and avocado.